« Tunnel vision | Page One | Gibson's F-bomb cease-fire »
Saddam on hunger strike, gives up Doritos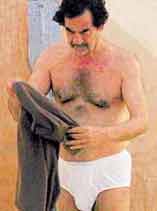 By John Breneman
Saddam Hussein has begun another hunger strike, according to a source who said the cranky tyrant barely touched his wine-poached Tuscan salmon last night, then turned up his nose at his tiramisu cheesecake dessert.
Hussein is also refusing his vegetables, even when his jailers try the U.N.-approved "choo-choo train" method of getting him to eat. The judge presiding over his trial stated that holding Hussein in contempt of court wasn't working, so he ordered him to be confined in a holding cell for an extended "timeout."
With his latest tantrum, Hussein reportedly hopes to strike a blow for deposed genocidal maniacs everywhere. According to one of his attorneys, "The elite, pro-human rights media never prints the GOOD news about ruthless totalitarian dictators."
Related stories:
Saddam tells judge to 'go (bleep) yourself' – Jan. 30, 2006
'Madman' Hussein pleads insanity – Nov. 28, 2005
Photos prove Saddam possessed BVDs – May 23, 2005
Posted on July 17, 2006 9:12 AM | Permalink
---
Previous post: Tunnel vision.
Next post: Gibson's F-bomb cease-fire.