« Bush fails second doping test | Page One | Snake alert »
Hamsters banned from commercial flights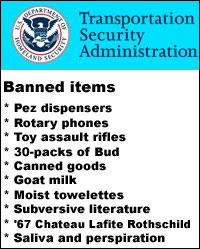 By John Breneman
The Transportation Security Administration today announced new airline security restrictions in the wake of the British plot to blow up planes with soda pop and baby formula. Officials are also investigating a terror scheme involving hamsters rigged with explosives and an Islamofascist gecko.
Passengers will no longer be able to carry on the following liquids: Nitroglycerin, goat milk, chicken soup, barrels of crude oil, urine samples, Chateau Lafite Rothschild, moist towelettes and triple lo-fat mocha latte frappuccino. Other banned liquids include Newman's Own Islamic Vinaigrette Dressing and excess saliva or perspiration.
Also prohibited from the passenger compartment: Pez dispensers, toy assault rifles, cellular and rotary phones, Match-Lite charcoal briquettes, canned goods, frozen steaks, stink bombs, pinking shears, kilos of cocaine, Ninja death stars and most hand grenades.
Also: Acetylene torches, PVC tubing, night-vision goggles, deep-sea diving apparatus, fake passports, cucumbers wrapped in tin foil, Ronco bottle and jar cutters, moth balls, Preparation H, subversive literature, acorns, pointy sticks, hollow chocolate Easter bunnies, Hummel figurines, Elmer's glue and Mel Gibson.
Related stories: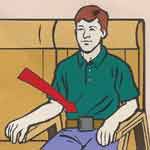 IMPORTANT: Air travel safety tips

Fake obit: Abu Musab al-Zarqawi -- June 9, 2006

Al Qaeda's #2 man is cowardly piece of dung -- Aug. 5, 2005

London attack heightens worldwide hatred
of spineless terrorist jerks -- July 8, 2005

Suicide bombers get cold feet, call in sick -- June 6, 2005
Posted on August 18, 2006 9:55 AM | Permalink
---
Previous post: Bush fails second doping test.
Next post: Snake alert.