« Rush, Newt back Sotomayor for Supreme Court job | Page One | Alaska governor palin-izes Newt Gingrich »
Cheney shoots political enemy in the face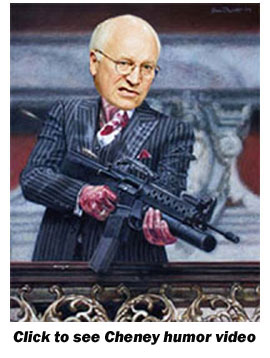 By John Breneman
Former Vice President Dick Cheney has shot former counterterrorism chief Richard Clarke in the face, metaphorically.
The attack came Monday as Cheney continued his daring, 50-state propaganda spree at the National Press Club in Washington, D.C.
Asked about a recent Clarke op-ed piece critical of the administration, Cheney said, "You know, Dick Clarke. Dick Clarke, who was the head of the counterrorism program in the run-up to 9/11. He obviously missed it."
Pow.
Cheney's muzzle-load of bull-shot richocheted straight into the face of every American, especially those who know that Richard Clarke spent the months leading up to 9/11 carpet-bombing the White House with messages warning of an al-Qaeda attack, begging unresponsive Bush officials to take heed.
Cheney blasted away at Clarke despite a smoking-gun paper trail of correspondence from the counterterrorism boss, including:
"Bin Ladin Public Profile May Presage Attack" (May 3, 2001)
"Bin Ladin's Networks' Plans Advancing" (May 26)
"Bin Ladin Attacks May Be Imminent" (June 23)
"Bin Ladin and Associates Making Near-Term Threats" (June 25)
"Bin Ladin Planning High-Profile Attacks" (June 30)
"Planning for Bin Ladin Attacks Continues, Despite Delays" (July 2)
And finally, unable to interest the White House in this urgent, imminent peril, Clarke emailed Condoleezza Rice on Sept. 4, 2001, asking, "Are we serious about dealing with the al-Qaeda threat?"
When reminded by the moderator of Clarke's well-documented warnings, Cheney -- after a brief pause during which he decided not to shoot the moderator in the face -- pretended he didn't remember and then fired off a punch line, saying, "That's not my recollection, but I haven't read his book."

Wow.
Cheney's magical revisionist history tour -- a series of guerrilla TV appearances intended to cement his legacy as America's spine-chilling, unrepentant torturer-in-chief -- is apparently having an impact.
As the truth continues to ooze out about the Cheney gang's dark White House, polls show that 82% of Americans admit being scared that Cheney might come to their house late at night and strangle them in their sleep.
Related story: Cheney slays 12 in Memorial Day 21-gun salute -- May 29, 2006

Posted on June 4, 2009 8:05 AM | Permalink
---
Previous post: Rush, Newt back Sotomayor for Supreme Court job.
Next post: Alaska governor palin-izes Newt Gingrich.