« Wacko sister: Jacko murdered !! | Page One | Triple-Action News: the latest poll »
Pundit Frankie Goldchains slams Glenn Beck
ANCHORMAN REID PAGE: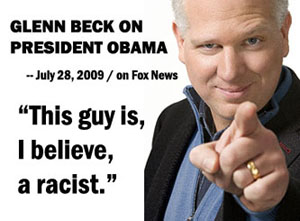 Good evening, I'm anchorman Reid Page. Tonight on "America's Most Hateful Pundits" -- cable TV cancer Glenn Beck trying to make headlines and boost his ratings by calling President Obama a "racist."
Repugnant self-aggrandizing bigotry or triple reverse racist gibberish?
With us is ex-Mafia media pundit Frankie Goldchains.
WATCH VIDEO:
FRANKIE GOLDCHAINS
vs. GLENN BECK
FRANKIE GOLDCHAINS:
Yeah, I'm Frankie Goldchains.
Ya hear about this facehole Glenn Beck calling Obama a racist on Fox News?
"Obama's a racist." Yeah, that's it.
Who writes your material, Beck? The Imperial Grand Dragon over there at Ku Klux News?
I see right through you -- you Fascist, narcissist, Commie propaganda monkey!!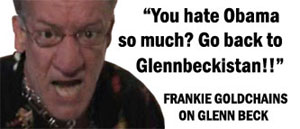 Our president hates white people?!? Not even your viewers are that stupid, Beck!! Spewin' that pulpy bullshit from your bully pulpit.
Man, I seen some race baiters in my day. But you -- you're some kinda master race baiter. Tryin' to incite the anti-Obama whackjobs.
Stirrin' up some kinda Reich-wing Fuhrer.
You hate our president so much. Go back to Glennbeckistan!!!
You smug illegal Caucasian domestic terrorist !!
Pass the word to your boys O'Reilly and Dobbs and Hannity, too. Stinkin' up the airwaves with your revolting jowl movements!! Good thing you clowns are protected by Freedom of Speech.
You wanna debate?!?
I'll come down there -- DEBATE THE CRAP OUTTA YOU !!!
FRANKIE GOLDCHAINS STYLE !!
RELATED VIDEO:
Frankie Goldchains to replace Colmes on 'Hannity & Colmes'
Posted on August 5, 2009 9:54 AM | Permalink
---
Previous post: Wacko sister: Jacko murdered !!.
Next post: Triple-Action News: the latest poll.