Global economy blues
Gazette exclusives
Drill Sergeant loses it
(YouTube sensation!)
Handy sites
About.com (Political Humor)
Alexa
Alternet
Bartcop
Borowitz Report
BuzzFlash
BuzzMachine
Fark
Dictionary.com
Glossy News
Google
Media Matters
New York Times
ThePoliticalCarnival
Romenesko/Poynter
Satire Awards
Word.com
« WikiLeaks to dish dirt on Palin, Lohan, Kim Jong-il | Page One | Loaded for bear: Gosselin rides shotgun with Palin »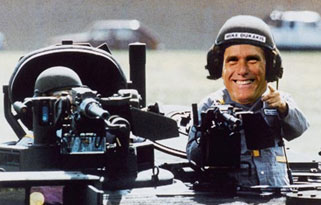 Gunnin' for the White House
When reality TV superstar Sarah Palin knocked off a caribou for the cameras, the rifle shot reverberated across the Republican Party's presidential short list.
Minnesota Gov. Tim Pawlenty reportedly scrambled outside to blast a deer, Newt Gingrich boasted of gunning down an illegal alien and former Arkansas Gov. Mike Huckabee spanked a monkey.

Mitt Romney had to be talked out of renting a tank and former Vice President Dick Cheney shot a guy in the face for old times' sake.
The quadrennial ritual of presidential wannabes taking up arms (and donning brand-new blaze orange) is a transparently choreographed salute to the Second Amendment and the NRA -- a big game that promises to be even more cartoonish in Election 2012 as Palin's caribou kill shot echoes from Alaska to Iowa.
By busting a cap into that reindeer's face, Palin fired a warning shot aimed at a certain confused pack of elephants -- she is the hunter and they are the prey. Reload!

RELATED STORIES:
Aaron Sorkin: Palin's a 'phony' Elmer Fudd (Huffington Post)
CSI: Alaska -- was it fake? (Daily Kos)

Alexandra Petri 'unimpressed' at Grizzly spectacle (Washington Post)
OLDIES:
Cheney slays 12 in 21-gun salute
/
Cheney accidentally detonates nuclear weapon
FAKE ADS:
For Christmas: Sarah Palin video game -- "Gall of Duty"
Sarah Palin's In-Your-Face Cream (* for Ultra-Thin Skin)
Posted on December 9, 2010 12:38 PM | Permalink
---
Previous post: WikiLeaks to dish dirt on Palin, Lohan, Kim Jong-il.
Next post: Loaded for bear: Gosselin rides shotgun with Palin.