Global economy blues
Gazette exclusives
Drill Sergeant loses it
(YouTube sensation!)
Handy sites
About.com (Political Humor)
Alexa
Alternet
Bartcop
Borowitz Report
BuzzFlash
BuzzMachine
Fark
Dictionary.com
Glossy News
Google
Media Matters
New York Times
ThePoliticalCarnival
Romenesko/Poynter
Satire Awards
Word.com
« Brat, 3, destroys Watson supercomputer at Candy Land | Page One | Incredible Hulk implicated in steroid probe »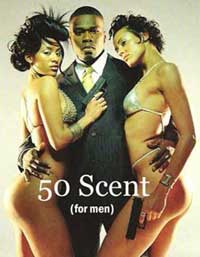 50 Cent introduces 50 Scent
Imagine the dangerous aroma of a freshly fired 9 milimeter semiautomatic handgun.
Blend in the rich, bling-tastic bouquet of a burlap sack stuffed with $100 bills.
Now add an audaciously naughty whiff of skanky ghetto gold-digger.

Introducing 50 Scent -- a gangsta-licious new fragrance created by platinum-toothed rap mogul 50 Cent.
(See poster version)

Just dab some on your neck, behind your ear and all up in your junk to drive the ladies wild.

Or slather some upside those unsightly drive-by scars to make old wounds sizzle with brutish sensuality.
50 Scent: Manufacturer's suggested retail price: 50 Dollar
Posted on March 18, 2011 9:25 AM | Permalink
---
Previous post: Brat, 3, destroys Watson supercomputer at Candy Land.
Next post: Incredible Hulk implicated in steroid probe.