« Extremist Makeover: Mock obituary for Osama | Page One | Newt announces presidential slither »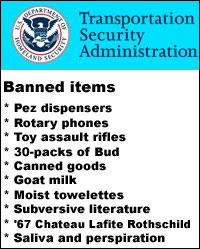 Gummy bears banned from commercial flights
The Transportation Security Administration today announced new airline security restrictions to ensure heightened vigilance following the death of Osama bin Laden.
Passengers on commercial flights will no longer be able to carry on the following liquids: Nitroglycerin, chicken soup, shampoo bombs, goat milk, barrels of crude oil and vintage Chateau Lafite Rothschild.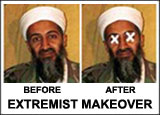 Additional banned liquids include: Clorox, bouillabaise, monkey tears, holy water and Aunt Jemima maple syrup. Also: absinthe, Chinese black vinegar, 30-packs of Pabst Blue Ribbon and Paul Newman's Islamic Vinaigrette Dressing.
Also prohibited from the passenger compartment: Assault rifles (toy and actual), Pez dispensers, rotary phones, charcoal briquettes, Ninja death stars and most hand grenades. Other banned items: Frozen caribou steaks, stink bombs, pinking shears, acetylene torches and kilos of cocaine.
Also: PVC tubing, night-vision goggles, deep-sea diving apparatus, fake passports, cucumbers wrapped in tin foil, Ronco bottle and jar cutters, moth balls, Preparation W, subversive literature, acorns, unstable uranium and myrrh.
See updated TSA safety tips below.
Related stories:
Mock obituary -- Osama bin Laden, evildoer, 54
Consult your HOMELAND SECURITY HOROSCOPE
---
| | | |
| --- | --- | --- |
| Before buckling up for takeoff, make sure to check under your seat for terrorists. | Never attempt to light a stick of dynamite while aboard a commercial flight. | Only a small minority of passenger flights result in a hideous "crash landing." |
| | | |
| --- | --- | --- |
| Just follow this simple diagram if you and the others are to have any hope of survival. | Our "Wet 'n' Wild" ocean-rafting amenity is offered free on select flights. | Life vests in first class are equipped with a tin of Pringles and a wedge of smoked brie. |

Children who refuse
to "shut the hell up" should be smacked sharply on the head.

Please keep all genitalia inside your clothing for the duration of the flight.


If a terrorist should brandish a box-cutter, leap out the nearest emergency door.
| | | |
| --- | --- | --- |
| Passengers are encouraged to yell "Wheeee!" while sliding to safety. | Customers may enjoy our complimentary oxygen during the death plunge. | Once the shark tears off your legs, the seat cushion keeps your bloody torso afloat. |
---