Global economy blues
Gazette exclusives
Drill Sergeant loses it
(YouTube sensation!)
Handy sites
About.com (Political Humor)
Alexa
Alternet
Bartcop
Borowitz Report
BuzzFlash
BuzzMachine
Fark
Dictionary.com
Glossy News
Google
Media Matters
New York Times
ThePoliticalCarnival
Romenesko/Poynter
Satire Awards
Word.com
« Bald eagle calls out America's politicians | Page One | Mitt endorsed by Joe the CEO »
Romney claims he killed Osama bin Laden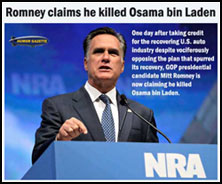 One day after taking credit for the recovering U.S. auto industry despite vociferously opposing the plan that spurred its recovery, GOP presidential candidate Mitt Romney is now claiming he killed Osama bin Laden.
The claim spotlights Romney's long-held commitment to saying absolutely anything – regardless of the truth – to get himself elected. Observers say it also confirms that Romney believes the American electorate is far too ignorant to stop a lying, pandering phony from becoming president.
Explaining that President Obama deserves little credit for killing the al-Qaeda leader because anyone – "even Jimmy Carter" – would have given the order, Romney said: "In fact, I did give the order. Yeah, that's it. The Navy SEALs were just marvelous. And, of course, we couldn't have done it without Ted Nugent."
RELATED OBITUARY: Osama bin Laden, evildoer, 54
Posted on May 9, 2012 9:34 AM | Permalink
---
Previous post: Bald eagle calls out America's politicians.
Next post: Mitt endorsed by Joe the CEO.