Read his lips, Bush joins Sox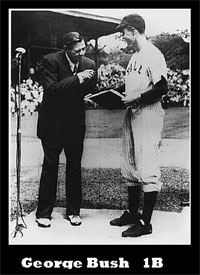 The elder Bush meets Babe Ruth as a senior at Yale in 1948.
By John Breneman
BOSTON -- (May 30, 1999) Desperate to add power to their lineup after the departure of outspoken slugger Mo Vaughn, the Red Sox today acquired veteran first baseman George H.W. Bush.
Bush, who led Yale University to the first two College World Series in 1947-48, has been out of baseball for over five decades. But Sox manager Jimy Williams said the former president has been working out hard since losing his re-election bid in 1992 and is "really stinging the ball."
Sox general manager Dan Duquette said he has had his eye on Bush since the Gulf War and jumped at the chance to sign him to an incentive-laden contract reported to be worth $4.5 million over three years.
"The Sox need power," said Duquette, "and Mr. Bush is only several years removed from being the most powerful man in the world."
Bush's contract calls for an extra $1 million if he belts 30 home runs, another $1.5 million if he is named the American League's Most Valuable Player, and an additional $2 million if he topples Slobodan Milosevic from power in war-torn former Yugoslavia.
During a stellar collegiate career at Yale, Bush played in 51 games, hitting .251 with two home runs and 23 runs batted in. He also posted a nifty .981 fielding percentage. The Yale nine advanced to the first College World Series in 1947, before suffering a heartbreaking 8-7 loss to California in the championship game.
The following year, Bush was named captain of the Elis and the team once again reached the championship game before falling 9-2, this time to the University of Southern California.
Also during the memorable 1948 season, Bush met the legendary Babe Ruth, who visited Yale to present the school with an original manuscript of his autobiography. The great Ruth left a lasting impression on the young Bush who, according to those closest to him, harbored a secret desire to play pro ball throughout a lifetime of extraordinary achievement.
Now Bush is in negotiations with the Bush Library in College Station, Texas, to obtain some of his old baseball equipment. His first baseman's mitt (photo available online) is still in remarkable condition and Bush reportedly has asked the museum curator to trade the glove for a pair of slacks Bush wore during a tense confrontation with Saddam Hussein.
The curator is said to be holding out for a secret-agent decoder watch sported by Bush during his tenure as director of the CIA, but a deal is expected to be reached in time for tomorrow's 1:05 p.m. home game against Detroit.
Manager Williams said Bush will probably bat third, just ahead of shortstop Nomar Garciaparra, and suggested that Bush's proven clubhouse leadership will be just as important as whatever offensive spark he is able to bring to the lineup.
Bush reportedly has been considering a comeback for several years, but finalized his decision after a long 36-hole discussion with Michael Jordan, who advised the former president that he would always regret it if he didn't try to achieve his unlikely baseball dream.
In addition to his grueling creatine-fueled Nautilus workouts, Bush has been staying fit by playing golf and tennis, and honing his batting grip by clinging to the steering wheel of his high-powered cigarette boat as it tears through the surf in Kennebunkport.
Friends say Bush is eager to "get a piece of those d--- Yankees" and determined to help the Red Sox win a World Series title.
"Read my lips," Bush said while lacing up his cleats and applying some eye black in the dugout at Fenway Park, "I'm ready to step up to the plate. Ready for action."
Humor Gazette editor John Breneman predicts that Bush will hit a grand slam on Sept. 28 to clinch the American League East pennant.