Martha Stewart
spared death penalty
Crash-test dummies endorse Nader
Everything is hazardous to your health
White House janitor's "inside dirt"

Steroids hit Washington, Wall St.
Osama did 'Curse of the Bambino'
New probe probes impact of probes
Saddam loses shirt in stock market
Reality TV has lost touch with reality
Dog wedding angers conservatives

Kareem takes charge
in Afghanistan
Space tourist withstands G-force satire
Dean endorsed by Incredible Hulk
Kerry urged to avoid ketchup stains
Arthur Andersen hires Pam Anderson
Partying with Dennis Kozlowski
Allergy plague afflicts millions
Osama claims 'Curse of the Bambino'
Father's advice to son is 'write stuff'
Post-traumatic stress from Y2K
Election 2000 decided by fuzzy math
Gore: Internet inventor in cowboy boots
John Breneman
Real Bio
After two decades as a newspaper reporter, editor, page designer and columnist, I prematurely retired from print journalism this year to pursue my dream of writing humor for a living.
The Humor Gazette uses humor to spotlight the absurd and disturbing activities in politics, culture, the median and society at large.
I strive to present intelligent, thought-provoking satire in a highly visual, reader-friendly format that evokes the feel of a traditional print newspaper. Some say my work is on the cutting edge of muckraking investigative cerebral slapstick journalism.
Already, we've been fortunate to receive favorable publicity from USA Today and Editor & Publisher. Noted pundit Lars Trodson even put in a good word.
Often edgy, never mean-spirited. All in fun. We hope you will find laughter here.
Now here's some third-person stuff I made up:
John Breneman was born to write Fake News. Or perhaps this all started when his father (true story) dropped him into a potted plant in his infancy.
Intrigued by the infinite potential of the alphabet at age 4, he may or may not have formed a subconscious desire to become a writer. Two of his earliest role models were Dr. Seuss and Curious George.
A quiet youth, he did not reveal himself as a comic prodigy until age 5 when his essay on man's relationship with the wombat earned him a Knee-Slap Foundation scholarship to attend the prestigious Gutbuster Academy.
His first published work appeared in the Wombat Weekly at York (Maine) High School. There he also anchored a short-lived fake news program, launching the career of his alter ego, the respected TV news anchor Reid Page.
A year after he graduated from Colby College in 1983, his dad, Ernie, sent him off to work for his hometown paper, the York Weekly. He moved across the Piscataqua River to the Portsmouth (N.H.) Herald in 1988, down to Massachusetts as editor of the Cambridge Chronicle in '92, then back to Portsmouth in '98 to make Sunday papers.
His goal is to earn some dough writing funny stuff so he won't have to go back to an office where there isn't as much time to write funny stuff.
Potential investors and top-notch literary agents are encouraged to contact him at mail@humorgazette.com

Humor Gazette webmaster Jeff Raper can be reached at inetsolutions4u.

Gazette exclusive:
Startling revelations
about War President
George W. Bush
Congress takes
whack at obscenity
Latest poll: Americans hate polls
Kerry calls Bush team lying 'thugs'
What People Earn: Parade mag spoof
President looks to sex up Constitution
Did Bush evade Boy Scout service?
Super Bowl XXXVIII:
Thanks for the mammaries
President takes on 'Yankee madman'
Bush threatens to use force on Dems
President expresses Venus envy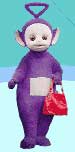 Tinky Winky ... the exclusive interview
Arafat meets Hatfields & McCoys
Pork for Halliburton, none for France
Alice Cooper embedded in sidewalk
Squirrel terrorists hit power grid

Groundhog predicts nuclear winter
People Mag. names Top 50 humans
Beavers suspected in DC gnawings
Arafat meets Hatfields and McCoys
Clones gain influence in No. Korea
George W. Bush tried to buy my love
Bush tough talk for Mother Nature
Wile E. Coyote joins war on terror


Pee-Wee bin Laden
Fossils yield clues
about Rolling Stones
Jacko denies plastic surgery scheme
Terror takes hold in Tinsel Town
Global warming caused by
increased activity in Hell