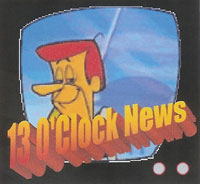 Cloning 101 with Dr. Gene Meddler
By John Breneman
Scientists at the University of South Berwick announced today they have successfully cloned a multi-cell organism that bears a striking resemblance to President George W. Bush.
The president sharply criticized the scientific breakthrough as "morally wrong." But the Bush clone (dubbed W2) believes just as strongly that human cloning is "morally right." This according to its creator, Dr. Gene Meddler.

These startling imaginary developments come just days after a Worcester, Mass., company announced for real that it had become the first to clone a human embryo.

The claim, which sparked a torrent of publicity and criticism, has fueled the public's curiosity about a possible brave, and scary, new world. The issue has also raised profound moral and ethical questions, such as:

-- Shouldn't the creation of human life be left to the only fully qualified professional - God?

-- Do clones have artificial souls?

-- And, how soon will they be available at Wal-Mart?

Congress is now mulling a ban on human cloning. But lawmakers sponsoring the bill refused to comment when asked for proof that they, themselves, are not in fact clones.
Existing boy bands and blond pop clonettes would be grandfathered, but all future cloning of Britney Spears would be banned.

Another bill, backed by the NRA, ensures that all American clones would enjoy the right to bear firearms.

"Cloning has indeed opened up what we in the industry call a 'can of worms,'" said Dr. D.N. Ayotte of the prestigious Cells 'R' Us research institute.

Scientists around the globe have made astonishing advances in cloning, according to Dr. Ayotte, whose federally funded research involves generating human life from "a gob of pig cells" and a can of Dinty Moore beef stew.

Several firms are exploring the use of cloned human tissue to treat a range of ailments - from mumps and shingles to cerebral gallstones and split personality. Researchers at Advanced Gridiron Technology are developing replaceable limbs for injured football players, and have already received a rush order for 250 of their "pop-in" anterior cruciate ligaments.

Considerable progress has been made in the cloning of cows, sheep and Regis Philbin. And McDonald's has just announced a new specialty sandwich made with "genuine cloned lobster meat."

The economy has also been stimulated with a spate of high-tech startups like Klonex Tissues, Levi's 501 Genes and Four-Leaf Cloners.

National security implications also loom large. Dr. Meddler of the University of South Berwick said his team has achieved added authenticity by equipping the Bush clone with subpar artificial intelligence. The CIA has already interrogated him about acquiring and deploying the W2.

But public concern about the potential uses and abuses of human cloning is rampant. York officials have proposed an ordinance creating the nation's first "clone-free zone." And anti-cloning activists have predicted a grim future in which jack-booted government clones take all the good jobs and parking spaces, while blurring the already-fuzzy line between real and fake.

John Breneman favors a federal moratorium on all future cloning of humor columnists
12-03-01
North Korea switches from communism to clonism
By John Breneman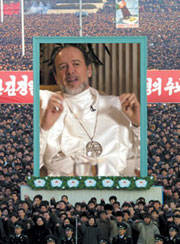 Millions of North Koreans marched on the capital of Pyongyang today demanding that leader Kim Jong Il be replaced by Claude Vorilhon, the mysterious head of the international cloning movement.
Kim's approval rating dropped sharply in recent weeks as North Koreans have become disillusioned with his handling of U.S. President George W. Bush, who they call "the pesky little chimp."
Followers also are said to be displeased by Kim's well-known penchant for Western goods like Budweiser, American chop suey and crack.
Poised to step into the leadership void is Vorilhon, who plans to strengthen the Asian nation of 21 million by cloning several million new North Koreans before summer.
Vorilhon, who calls himself Rael, also pledged to open lines of communication between North Korea and influential members of the extra-terrestrial community.
To help keep the rest of the world on edge, he said he would accelerate the sale of missiles to nations like Yemen, Finland and Aruba. Vorilhon said he might also be able to get ahold of some bubonic plague.
An estimated 1 million North Koreans marched up to the moat of Kim's gold-plated palace with banners reading: "Kim Jong Il is a friggin' jackass" and "Clones will help us smash the capitalist American pig-dogs."

11-1-02

Son puts Sox slugger in deep-freeze

By John Breneman
John Henry Williams, who FedExed his deceased dad to a deep-freeze facility in Arizona, today produced a document he claims reflects the last wishes of the legendary slugger Ted Williams.

Experts say the document may be legally binding because it carries a realistic looking "Ted Williams" signature in cursive handwriting, just above the words "genuine authentic Ted Williams-style autograph."
Though Williams' daughter and many of his closest friends insist that John Henry is violating both his father's dignity and his wish to be cremated, the son says the newly discovered document spells out the Hall of Fame hitter's desire to be "exploited in the most bizarre fashion possible."
John Henry Williams said his father often spoke of wanting to be frozen up like "a goddamn bonefish" and have his DNA used to clone a genetically superior batsman capable of hitting .604 with 85 home runs and 270 runs batted in.
And in his more whimsical moments, according to his son, Williams often mused that it would be great fun to have his fingernails and thatches of his hair auctioned off on eBay.
Surrounded by TV cameras at a press conference announcing the will, John Henry Williams said he had also just discovered a box containing 800 bats that his father had used during his final game at Fenway Park in 1960. The bats, now selling for $199.95 each on John Henry's new Web site frozenmealticket.com, are the centerpiece of his a new line of Ted Williams memorabilia.
Also available:
"Splendid Splinter" toothpicks (carved from bats purchased using Ted Williams' credit card) -- $19.95 each
Official Ted Williams Kleenex tissues (soiled with the slugger's nasal DNA) -- $29.95 each
Leftover worms from a Maine fishing trip -- $39.95 each or 3 for $100
Tape recording of Ted Williams yelling "shut off that goddamn tape recorder, you money-grubbing son of a bitch" -- $49.95
Pens used by Ted Williams to unwittingly sign checks paying for his son's failed business enterprises -- $59.95
7-16-02
Steroids infiltrate Washington, Wall Street

By John Breneman
Recent reports of a steroid epidemic in Major League Baseball have spurred shocking allegations about widespread use of performance-enhancing drugs among stock brokers, politicians and TV news reporters.

"Half the brokers on the floor of the New York Stock Exchange are juiced," claimed Andrew Stenedione, a retired Merrill Lynch financial analyst.
"Those guys are animals. Once I was about to buy 5,000 shares of Bristol Myers Squibb and this 6-foot-7, 320-pound broker just slammed me to the floor to block my deal," he said.
"Another time I was trying to sell 10,000 shares of MuscleTech at 40 1/8 and one of Salomon Smith Barney's goon -- eyes bulging, veins popping out of his head -- screamed, 'Gimme those shares at 20 3/4 or I'll rip your friggin' spine out!"
Meanwhile, calls for mandatory testing are being heard from Wall Street to Washington amid reports of ripped politicians and bulked-up TV news anchors buying new wardrobes because they can no longer fit into their tailored three-piece suits.
Violent filibusters and legislative "smackdowns" are all the rage in Washington, where once-flabby lawmakers are returning from recess looking like Hulk Hogan. And Congressional watchdogs say there is alarming evidence that some lawmakers are turning to Human Growth Hormone to enhance their legislative performance.
"One well-known Democrat went from sponsoring 12 pieces of legislation in the 2000 legislative session to 147 bills in 2001. You don't get that kind of production from diet and exercise," said an anonymous Republican strategist. "God help us if Teddy Kennedy gets a hold of this stuff."
6-24-02