Pillsbury Doughboy kidnapped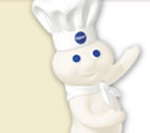 By John Breneman
In a brazen act of culinary-political terrorism, masked intruders armed with razor-sharp butter knives kidnapped the Pillsbury Doughboy from the heavily guarded Pop "n" Fresh compound in Crescent City, California.
No group has claimed responsibility for the abduction of the Doughboy, the cherubic, flour-white baking industry icon who is the sole heir to the vast Pillsbury fortune. But a ransom note scrawled in chocolate frosting at the scene demanded that four dozen unmarked fudge brownies and $50 million be deposited in a Danish bank account.
The FBI reportedly is investigating several leads -- including whether Pillsbury archrival Duncan Hines is in any way involved. A source close to the Doughboy said he was in possession of a new secret recipe for a no-calorie bundt cake at the time he was snatched.
According to an anonymous FBI informant known only as John Dough, other possible suspects include Betty Crocker, a Pillsbury subsidiary whose own line of mouth-watering baked goods was often overshadowed by the ubiquitious Doughboy. Federal investigators are also looking into a possible connection between the Pillsbury kidnapping and the nearby heist of an armored Brink's truck filled with dough.
The only witness to the abuduction was one of the Doughboy's bodyguards, who reportedly saw a dark, late-model sedan racing away from the Pillsbury compound and thought he heard plaintive, high-pitched squeals of "Hoo, hoo!" coming from inside the vehicle.
7-30-02