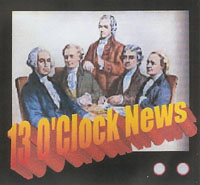 Quayle comes
out against
puppy love
By John Breneman
Waving a picture of two English bull mastiffs - one sporting a top hat and tuxedo, the other a lovely white bridal veil - former Vice President Dan Quayle today called upon Congress to pass a law banning canine marriage.
The lovestruck mutts were photographed exchanging "vows" at a recent dog wedding in Panama City, Florida.
"These, these ... animals make a mockery of traditional American values," said Quayle, a leading voice in the fight against canine marriage.

The former vice president, who recently got a court injunction to block a planned wedding between a pair of Indiana iguanas, said legislation is needed to "preserve the sanctity of man-woman marriage and its impressive 50 percent success ratio."
President Bush, who has expressed his belief that marriage ought to be reserved for heterosexuals, held a press conference to announce that he meant human heterosexuals.
Bush added that he is vehemently opposed to any wedding involving animals, including but not limited to monkeys, cats, parakeets, Gambian rats, zebras, donkeys, elephants, birds and/or bees and gerbils.
The Rev. Franklin Graham applauded the president's remarks, saying that while he respected the rights of God-fearing dogs to sniff each others' bums, he felt that dog weddings are an "an insult to the Lord and his devoutly celibate pit bull, Mr. Tyson."
The Rev. Graham, son of evangelist Billy Graham, urged people who share his belief to send money so he can continue to be "a voice for people who think dogs should stick to chasing cats and burying bones, and not poke their noses into human pursuits like marriage, divisive politics and good old-fashioned hatred of those different than us."
9-24-03
President Bush warns he may use military force vs. Democrats


By John Breneman

With his poll numbers slipping, President Bush said today he would not rule out using military force if he feels any of the Democratic candidates poses a significant threat to U.S. interests.


The president said he has evidence that retired Gen. Wesley Clark and other Democratic contenders may be stockpiling chemical and biological weapons in their campaign warchests. Further, Bush said, the British government has documents purporting to show that Sen. John Kerry attempted to purchase uranium "yellow cake" from Niger.


"You're either with us or you're a terrorist," said Bush, who claimed to possess some "darn good intelligence" revealing that each Democratic candidate opposes both the president and his policies. Bush said he has learned that Howard Dean and Joe Lieberman have ties to al Qaeda and that Al Sharpton once invited Saddam Hussein and his sons to a P. Diddy concert.


If the Democrats persist in criticizing the war in Iraq, the president said he will have no choice but to "give 'em a taste of heavy artillery." Asked what types of offenses might warrant a military response, Bush said he would only consider deploying troops if the Democrats continue to whine about U.S. casualties in Iraq and the need to seek help from the international community.


The president's mother, Barbara Bush, who recently called the field of Democratic contenders "a pretty sorry group," said she stands prepared to use even harsher language "if those pathetic liberal jackasses don't stop harassing my Georgie."


Bush stopped short of issuing a formal declaration of war against his rivals, but assured the American people that he would not hesitate to use some of his favorite "nuke-u-lar weapons" to defeat the menacing Democratic "axis of evil."


11-4-03

Howard Dean endorsed by Dukes of Hazzard

By John Breneman

Dukes of Hazzard support Dean
The fabled "Dukes of Hazzard" endorsed Democratic presidential candidate Howard Dean today, responding to Dean's recent comment that he wants to be "the candidate for guys with Confederate flags in their pickup trucks."

Support from Southern icons Bo and Luke Duke was welcome news for Dean, who sparked a controversy with his casual mention of the banner that symbolizes the repression and enslavement of African-Americans.

The former Vermont governor was in full damage control mode today, saying what he really meant was that he wants to be "the candidate for guys who drink shots of Jack Daniels out of Dixie cups."

The incident forced the Dean camp to address criticism of racial insensitivity. Newly hired spokesman Kunta Kinte III said Dean subsisted on a diet of chitlins and collard greens while putting himself through medical school and is a big fan of the TV sitcom "Whoopi."

The Dukes said the moment they heard Dean might need their help they hopped through the busted-out windows of the General Lee -- their famed 1969 Dodge Charger with a Confederate flag painted on top -- and hit the gas, spitting up dust and getting the needle up to 135 mph on their way to Vermont.

New poll numbers released today show Dean running well ahead of his rivals in pivotal Hazzard County now that the Dukes have pledged to help him "get that greedy Boss Hogg out of the White House."

11-07-03
Presidential candidate looking for action
By John Breneman
Democratic chick magnet Dennis J. Kucinich wants your vote for president of the United States. He also wants some action. Real bad. A goony-looking dork whose quest for the presidency seems puzzling and absurd to most observers, Kucinich finally generated some media buzz for his campaign last week by saying he likes to "fantasize about my first lady."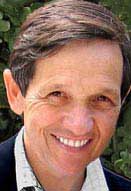 Kucinich said he pines for "a dynamic, outspoken woman ... fearless in her desire for peace in the world, for universal single-payer health care and for a full-employment economy." When pressed, Kucinich admitted that what he really wants is "a babe-a-licious tramp with large, pouting knockers and an insatiable desire for boring missionary sex."
Political analysts say Rep. Kucinich, whose only previous known romantic encounter was with his beloved Farrah Fawcett poster, may be reaching out to an influential voting bloc known as the "celibate nerd demographic."
Many believe the lovelorn politician's heartfelt expression of his innate lameness may also win him valuable "sympathy votes" for simply admitting that he can't get laid and putting out a national appeal for help.
The horny congressman is getting some assistance from a New Hampshire web site that is posting photos and messages from prospective first ladies at www.politicsnh.com. The site also gives revealing personal information about the randy candidate.
Turn-ons: serving as chairman of the Congressional Progressive Caucus, advocating for a national health care system and enjoying long walks and vegan picnics on the beach.
Turn-offs: when bullies kick sand on him at the beach. "That's mean," he said.
In other campaign news: Kucinich apologized to fellow candidate Carol Moseley Braun for "inadvertently" nuzzling his head in her bosom and saying "What's shakin' Big Mama?" after a recent debate.
11-14-03