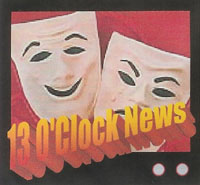 Terror takes hold in Tinsel Town

By John Breneman
Eager to cash in on America's fascination with terrorism, Hollywood is releasing a barrage of summer blockbusters like "Sleeping With the Yemeni" and "Al Qaeda on the Western Front."
Though critics have assailed trendy terror-themed films like "The Anthrax Chainsaw Massacre," studio executives are defending their right to turn the public's plutonium nightmares into silver-screen gold.
"If we allow them to scare us into not making tasteless movies jammed with explosions and gratuitous killing, then the terrorists truly will have won," said producer Adam Baum, plugging his controversial new release "Last Tango in Pakistan."
Some critics are dismissing the new genre as formulaic and derivative. Most of the films are nothing more than old favorites crudely refitted with flimsy story-lines, their titles riddled with racial stereotypes and horrifying puns like "Man in the Iron Mosque" and "Allah Doesn't Live Here Anymore."

Celluloid Seuss
"To eat them on a train, or not to eat them on a train: that is the question."
Kenneth Branagh's "Green Eggs and Hamlet," widely hailed as a rhyme-drenched fusion of Shakespearean tragedy and Seussian whimsy, is the most ambitious film to date in the new cinematic genre inspired by the late Theodor Geisel.
Enraged by the murder of his father the king, the youthful Prince Sam-I-Am (Branagh) seeks to exact his vengeance by tricking the killer into eating a poison plate of breakfast. Confusion and high intrigue ensue as his simplistic poetic badgering is consistently rebuffed.
Now that the box-office bonanza unleashed by "The Cat and the Hat" and "How the Grinch Stole Christmas" has trumpeted Dr. Seuss's posthumous emergence as a bankable Hollywood force, industry insiders are buzzing about a slew of new projects.
"It's like 'Citizen Kane' meets 'The 500 Hats of Bartholomew Cubbins'," Leonardo DiCaprio said to a sexy blond while nibbling sneetch foie gras at Spago.
Jacko denies
plastic surgery escape scheme
By John Breneman
Authorities in California say they suspect accused child molester Michael Jackson may be planning to elude prosecution by altering his appearance through cosmetic surgery.
Jackson, whose original face was long ago replaced by a pale space-age polymer that looks and feels almost like human skin, reportedly has hired a team of plastic surgeons to provide him with a new mug every few days.

The King of Pop's fantastic escape plan involves a rotating palette of faces ranging from a nondescript "John Doe" to one blending the features of Elizabeth Taylor, Macauley Culkin and Democratic presidential candidate Dennis Kucinich.
Currently free on $3 million bail, Jackson dismissed the child molestation charges as a "big fib" and professed his love for all children. Last November, the reclusive entertainer demonstrated his love for his youngest child, who goes by the psychologically damaging name "Blanket," by putting a sack on his head and dangling him off a hotel balcony in Berlin.
Jackson's love for his eldest children, who often accompany him on elephant-bone shopping sprees, is also readily on display. He protects their young faces by making them wear hyperbarically correct Spider-Man masks 24 hours a day and affectionately calls them "Artoo Detoo" and "SpongeBob SquarePants."
A source close to the Jackson camp, his trusted chimpanzee Mr. Pre-Pubescent Willie, said Jackson has absolutely no plans to elude authorities by transforming himself into an albino Donny Osmond and blasting off in a magical spaceship stashed in a secret room at his Neverland ranch.
11-25-03
Tinky Winky talks in exclusive interview
Had a long talk with my pal Tinky Winky the other day. Poor little fellow is really depressed, which is unusual for him. His disposition is generally quite gay.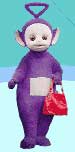 Professionally, things are going well. His children's show, "Teletubbies," has become a smash hit among the influential bib-and-strained-peas demographic, and he's been holding up well under the pressures of fame.

But then along comes the Rev. Jerry Falwell, who -- as you probably have heard -- is accusing Tinky Winky of being a homosexual and contributing to the moral delinquency of impressionable toddlers.
Tinky Winky is extremely media shy and has refused nearly all requests for interviews. He is also very sensitive about his image. I know because he and I worked together on several failed TV pilots a couple years back.
We first became acquainted when I worked as a writer for the pastoral police drama "Tinky & Hutch." But we really bonded on the set of the ill-fated sitcom "Plush Little Prince of Bel Air."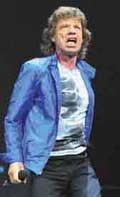 Fossil yields clues about Stones' age
By John Breneman
LONDON -- Archaeologists today unearthed fossilized evidence that the Rolling Stones, originally thought to have formed in the mid-20th century, actually were created by geologic forces during the waning days of the Neolithic Era.
The discovery of the Stone Age fossil, which bears the impression of a giant set of human lips with a tongue sticking out, comes just as the aging rockers have embarked on yet another world tour.
The dig also turned up several crude guitar picks and - scrawled on a piece of woolly mammoth skin - lyrics to the classic Stones hit "Monkey Man," now being interpreted as a biting musical commentary on mankind's evolution from Neanderthal to Cro-Magnon.
Rock historians are ecstatic over the findings, which also mean that legendary Stones front man Mick Jagger, until recently thought to be 58 years old, is actually closer to 5,800.
The Stones (also known as "Their Arthritic Majesties") have updated many of their best-loved songs to reflect their advanced age. The following is a partial list of old favorites the band is expected to play.
"Jumpin' Jack Kevorkian"
"19th Digestive Breakdown"
"Grandmother's Little Helper"
"Bypass Surgery for the Devil"
"Gimme Assisted Living Shelter"
"You Can't Always Get the Prescription Drugs You Want"
"Gray Sugar"
"When the Hip Goes Down"
"Faraway Eyeglasses"
"Start My Pacemaker Up"
"Time is NOT on My Side"
5-10-02