Splendid Splinter frozen in time

By John Breneman
John Henry Williams, who FedExed his deceased dad to a deep-freeze facility in Arizona, today produced a document he claims reflects the last wishes of the legendary slugger Ted Williams.
Experts say the document may be legally binding because it carries a realistic looking "Ted Williams" signature in cursive handwriting, just above the words "genuine authentic Ted Williams-style autograph."


Though Williams' daughter and many of his closest friends insist that John Henry is violating both his father's dignity and his wish to be cremated, the son says the newly discovered document spells out the Hall of Fame hitter's desire to be "exploited in the most bizarre fashion possible."

John Henry Williams said his father often spoke of wanting to be frozen up like "a goddamn bonefish" and have his DNA used to clone a genetically superior batsman capable of hitting .604 with 85 home runs and 270 runs batted in.

And in his more whimsical moments, according to his son, Williams often mused that it would be great fun to have his fingernails and thatches of his hair auctioned off on eBay.

Surrounded by TV cameras at a press conference announcing the will, John Henry Williams said he had also just discovered a box containing 800 bats that his father had used during his final game at Fenway Park in 1960.

The bats, now selling for $199.95 each on John Henry's new Web site frozenmealticket.com, are the centerpiece of his a new line of Ted Williams memorabilia.
Also available:
-- "Splendid Splinter" toothpicks (carved from bats purchased using Ted Williams' credit card) -- $19.95 each

-- Official Ted Williams Kleenex tissues (soiled with the slugger's nasal DNA) -- $29.95 each

-- Leftover worms from a Maine fishing trip -- $39.95 each or 3 for $100

-- Tape recording of Ted Williams yelling "shut off that goddamn tape recorder, you money-grubbing son of a bitch" -- $49.95

-- Pens used by Ted Williams to unwittingly sign checks paying for his son's failed business enterprises -- $59.95

7-16-02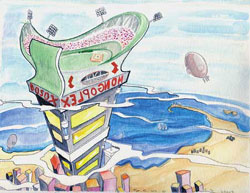 Red Sox to build Fenway Mongoplex
By John Breneman
They say Fenway Park has got to go. Too old and quaint. Rustic but just plain rusted.
Better get to Fenway while you can because I hear that pretty soon the Red Sox will be playing their home games in a state-of-the-art Mongoplex.
These new old-fashioned ballparks in San Francisco, Baltimore and Pittsburgh are all very charming. But the new owners of the Red Sox know the revenue you can suck in with a gargantuan custom-designed Mongoplex is astronomical. And it offers a virtually unparalleled cyberbaseball experience.
I've put Red Sox management in touch with a crack team of investors eager to replace decrepit little Fenway with a gleaming new 10-story Mongoplex right on the same site.
The Sox would play on real grass 150 feet above sea level on the 10th floor of a spacious multipurpose tower featuring a retractable roof, a replica Green Monster and luxury-box seating with a view of Nantucket. The domed roof will be gold-plated to add that elegant touch of class that tourists find irresistible.
But wait, there's more. This massive revenue machine would have far-reaching benefits to Boston and the entire Northeast corridor, creating jobs and cash, drawing major conventions, and hosting a smorgasbord of big-time cultural and sporting events.
Picture, if you will, a colossal Mongoplex — looking something like the Washington Monument on steroids — a convention center on the ground floor with underground parking for 10,000 cars.
The Mongoplex would cost at least $14 billion and would be paid for, in part, by placing slot machines in every town and city hall in Massachusetts. Additional funds would be raised by shaking down rich people and holding a statewide bake sale.
Sports, science and the arts would converge at the 10-story Mongoplex. Here is a sample of the offerings on a hypothetical Saturday night in October 2005 if we get this thing on the fast track:
First floor: The World Wrestling Federation's "Nuclear Texas Chainsaw Anthrax Hand Grenade Death Match," featuring a cage full of cartoonish, chemically enhanced megamen performing a brilliantly choreographed blend of dance, ultraviolence and sexual perversity.
Second floor: The annual convention of the 50,000-member National Pistol-Whipping Association, an underground militia of men and women who not only like to shoot guns, they like to hit people in the head with them.
Cartoon by Michael Scholz