Houston, we have a Super Bowl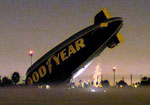 By John Breneman
HOUSTON -- TV officials say this year's Super Bowl will be watched around the globe by an estimated 1 billion people. And with this year's contest being held on NASA's homefield, CBS will use a special "Hubble telescope-cam" to beam images of the game to distant planets and galaxies.
Planet Earth, indeed our very solar system, is humming with Super Bowl fever. The Mars rover Opportunity is even conducting a secret mission to determine whether football could be played in the Martian atmosphere and, if so, how low-gravity conditions would affect the passing game.
Sunday's super-broadcast will go out to 200 countries in 28 languages with subtitles for viewers in Europe, Asia and parts of Arkansas. It will be close-captioned for the pigskin-impaired.
The game truly has become an international spectacle. In North Korea, where President Kim Jong-Il is said to be a huge Carolina Panthers fan, the telecast is entitled "American Gridiron Devils XXXVIII."
The 164-hour pre-game show will feature Super Bowl analysis by Nelson Mandela ("New England 21-13"), Yasser Arafat ("Panthers suicide bomb the Patriots"), and Britney Spears ("Tom Brady is a hottie"). There will also be a poignant feature story on a star Budweiser Clydesdale who will miss the big game with a pulled hamstring.
The Humor Gazette has learned that Oprah Winfrey dominated the annual Celebrity Punt, Pass and Kick contest, flattening Arnold Schwarzenegger and knocking Woody Allen's glasses off.
Beyonce Knowles will perform the national anthem, joining such legendary performers as Barry Manilow (XVIII), Kathie Lee Gifford (XXIX) and The Backstreet Boys (XXXV) in the pantheon of Super Bowl anthem singers.
CBS will cut to sideline reporter O.J. Simpson just before halftime for a live update on his ongoing search for the "real killer."
Super Bowls are notorious for their halftime extravaganzas and CBS has pledged this year's gaudy intermission will be "the most annoying halftime show ever." Janet Jackson will take the stage with Nelly, Kid Rock and P. Diddy in a pop-rockin' salute to crass commercialism and celebrity egomania.
They join such legendary performers as Carol Channing (IV), New Kids on the Block (XXV) and Queen Latifah (XXXII) in the pantheon of Super Bowl halftime entertainers. Also at halftime, the Patriots and Panthers cheerleaders will team up for a high-kicking, knee-slapping salute to the anterior cruciate ligament.
In recent years, the trend has been more Super and less Bowl. Corporations that make cars and computers, beer and pizza pay $2.3 million to be on TV for 30 seconds while you go fetch another bowl of chili.
Of course, the game itself has become the perfect signature sporting event for our superpower nation -- body-armored millionaires bashing foes in a surreal arena of all-American overkill. Recreational violence with a VIP sideshow.
Former college cheerleader George W. Bush will call the winning coach in the lockerroom right after the victory, hoping the half of the nation that believes he is an incompetent, war-mongering jackass might think he's not so bad for a minute or two.

Betting on the game is, of course, illegal -- to the tune of an estimated $4 billion. That's enough money to buy an official Super Bowl XXXVIII fleece pullover and a batch of official Super Bowl XXXVIII nachos for every hungry child in the world.
The economic impact of the "game" was said to have been worth $367 million to last year's host city of San Diego, enough cash to provide health care for … ha-ha, just kidding.
The winning players get $68,000 each and what looks like a diamond ring on steroids. The losers pocket $36,500 and a diamond ring that is merely gigantic.
This year, the Microsoft two-minute warning will be extended to 15 minutes for a spectacular "Battle of the Goodyear Blimps" with celebrity pilots Tom "Top Gun" Cruise and Stevie Wonder.
Then as the game clock reaches :00, legendary spaceman John Glenn will flip a switch launching the Super Bowl XXXVIII commemorative satellite and a nuclear fireworks display that's chemically choreographed to scorch a radiant red, white and blue CBS mushroom cloud into the Texas night sky.
Several noted armchair psychologists have advised Humor Gazette editor John Breneman not to watch football anymore.