Red Sox to build Fenway Mongoplex
They say Fenway Park has got to go. Too old and quaint. Rustic but just plain rusted.
Better get to Fenway while you can because I hear that pretty soon the Red Sox will be playing their home games in a state-of-the-art Mongoplex.
These new old-fashioned ballparks in San Francisco, Baltimore and Pittsburgh are all very charming. But the new owners of the Red Sox know the revenue you can suck in with a gargantuan custom-designed Mongoplex is astronomical. And it offers a virtually unparalleled cyberbaseball experience.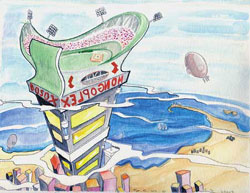 I've put Red Sox management in touch with a crack team of investors eager to replace decrepit little Fenway with a gleaming new 10-story Mongoplex right on the same site.
The Sox would play on real grass 150 feet above sea level on the 10th floor of a spacious multipurpose tower featuring a retractable roof, a replica Green Monster and luxury-box seating with a view of Nantucket. The domed roof will be gold-plated to add that elegant touch of class that tourists find irresistible.

But wait, there's more.

This massive revenue machine would have far-reaching benefits to Boston and the entire Northeast corridor, creating jobs and cash, drawing major conventions, and hosting a smorgasbord of big-time cultural and sporting events.

Picture, if you will, a colossal Mongoplex - looking something like the Washington Monument on steroids - a convention center on the ground floor with underground parking for 10,000 cars.

The Mongoplex would cost at least $14 billion and would be paid for, in part, by placing slot machines in every town and city hall in Massachusetts. Additional funds would be raised by shaking down rich people and holding a statewide bake sale.
Sports, science and the arts would converge at the 10-story Mongoplex. Here is a sample of the offerings on a hypothetical Saturday night in October 2005 if we get this thing on the fast track:
First floor: The World Wrestling Federation's "Nuclear Texas Chainsaw Anthrax Hand Grenade Death Match," featuring a cage full of cartoonish, chemically enhanced megamen performing a brilliantly choreographed blend of dance, ultraviolence and sexual perversity.
Second floor: The annual convention of the 50,000-member National Pistol-Whipping Association, an underground militia of men and women who not only like to shoot guns, they like to hit people in the head with them.
Third floor: The World Poetry Slam Finals, featuring such world-class counter-culture literati as Busta Sonnet and Arthur "King of All Adjectives" Jones. Opening the festivities: a no-verbs-barred exhibition of Ball-Peen Grammar by noted etymologist Chris Elliott.
Fourth floor: Opening night at the first OMNISCIENT-MAX theater, where viewers are so engulfed by sights, sounds, smells and subliminal sensations that the effect is that of having a God-like view of the movie being shown. In this case, a double bill - "No, No, Nanette" and "Porky's 2: Bambino's Revenge."
Fifth floor: Welcome to Soxwood - a Native American casino with a baseball theme. Gamble away the hours while eating complimentary Fenway Franks and sipping weak beer out of a plastic cup.
Sixth floor: Weekly "Battle of the Bands." Just imagine the irreparable eustachian tube damage waiting to be wreaked in the Mongoplex by such hot new bands as Goon Posse, Decibel Overlords and Punctured Ear Drum. Not to mention local talent like Beige Chameleon, Decaying Infrastructure and Petrocelli's Jockstrap.
Seventh floor: Executive offices for cutting-edge firms. Target tenants include biotech innovators like the Gene Wilder Cloning Institute and investment firms like Smith Barney Rubble.

Eight and ninth floors: A Radisson Fenway luxury hotel. When world leaders are in town for the international summit conference downstairs, they'll spend millions knocking back $8 Sam Adamses at the authentic "Cheers" bar. The economic spinoff is projected to enrich nearby local businesses like McDonald's and Burger King.

And now, please rise for the national anthem ...

Tenth floor: Red Sox vs. the Atlanta Braves, Game 7 of the World Series. My prediction: Pedro Martinez and the Sox win 2-0, busting the Curse of the Bambino in the rarefied air of the magnificent Fenway Mongoplex.
3-31-02