Lars Trodson
This story appeared in the Feb. 26, 2004, Portsmouth Times. In the interest of full disclosure, Lars Trodson is a friend and former colleague of Humor Gazette editor John Breneman.
Writer following his heart, living the dream
By Lars Trodson
There's a great expression I recently heard: "Feeling 9/10." It means your mood is upbeat and carefree, something like you felt the day before the terrorist attacks on 9/11 -- hence the name. I think it's just a terrific turn of phrase.
That's what I was feeling the other day. I was driving on Goodwin Road up in Eliot, Maine. The snow had melted and the brown grass had emerged and it looked like the end of winter in New England. I went past the working farms, and the sky was blue and my little pickup was just puttering along.
I was headed into Portsmouth to see my former colleague and friend John Breneman, who has stepped out of the workaday world to pursue the dream of writing humor for a living. We were going to spend the morning talking about the fulfillment of a dream and the craft of writing.
Just months ago Breneman had nothing but an idea. He wanted to write full-time. Over the years, he has written a column called "Fake News" where he combines a factual event with his own flights of fancy, and local readers may know him from that. He was a regular contributor to the old ThumpCity web site, which also included Chris Elliott. But those endeavors proved only enough to scratch the itch.
We had talked over the years about the kind of commitment it takes to fulfill a dream. It's almost impossible today to keep that dream on a part-time basis; you must dive into it headfirst and keep kicking and screaming and scratching and fighting until someone either hears you or no one wants to hear you any more. Particularly in the creative arts. We were working at the same newspaper when I left to write a book, and John followed -- and I do not mean that in any other way than in the chronology of things -- just a few weeks later.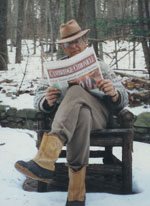 It takes no small amount of courage to leave a comfortable job, particularly one you're good at that pays the bills. Once Breneman turned 40 it would have been even easier to simply settle into that groove and say it was a little late to change horses. But when he was searching for something to do in life long ago, his father Ernie gave him some advice: Write stuff. That phrase rattled around in Breneman's head until he could ignore it no more.

Just several months into his pursuit, Breneman now has a web site devoted to his clever and funny writings. It's called The Humor Gazette, and it is already creating a buzz in the extremely populated world of 'zine writing. The fact that his creation is getting linked up to other well-known comedy and satire sites certainly means he's onto something. You can find out what I mean by clicking on www.humorgazette.com.

The web site was originally intended to be a kind of warehouse for the volumes of sketch pieces, humorous jabs, word-plays and verbal pratfalls that he's been crafting for quite some time. But now it's taken on a life of its own. He's being helped by his web master, a young man named Jeff Raper, and Breneman has made a commitment to keep his web site updated and topical. One day Breneman showed me all the html code that sits just behind the clean and bright graphics of his web site. So, I said to myself, that's what the mind of a comedian looks like.

On the day we talked, Ralph Nader had just entered the presidential race. Breneman, who is nothing if not smart, conflated Nader's history as an auto safety pioneer with his political ambitions and wrote a piece called "Crash-test dummies endorse Nader." You'll be mistaken to think this kind of joke is obvious; you try to come up with it first.

This is my take: Much of the humor writing today is either quite precious or downright unfunny. As an example, when was the last time you actually laughed at something a radio D.J. or a morning TV talk show host said? Not very recently, I would imagine. Or: When a writer launches into a "humorous" piece on NPR, I begin a mental countdown as to when the author will begin his or her supposedly clever tangent to the original topic -- which always starts right on time -- and then wait nervously for the piece to wrap up with its intended ironic and literary conclusion.

I suppose it isn't fair to build someone up by negating the talents of others, but the point is comedy, as the famous man once said, is hard.

Breneman did not, by all accounts, start out as a funny kid. He was born in Pittsburgh, Pennsylvania, to a father who was a successful advertising executive and a mother who shared his penchant for collecting antiques -- something both parents put to good use when they opened up their own shop. (They now own two G. Willikers toy shops.) "We had a big house and a big yard and a creek in the back," Breneman said. A house they bought in the little neighborhood of Gibsonia was filled with old stuff, including an old-fashioned candle-making machine and a printing press -- which was later used to do promotional material for the antique store.

In 1972, Ernie Breneman had had enough of the rat race and decided to move. He investigated several different locales and the family settled in York, Maine -- "sight unseen." The kids didn't want to move, "but then we looked up Maine in the encyclopedia." The Breneman children, there are three, had never seen the ocean and when they first came upon the water it was high tide and they looked at each other and said: "Where's the beach?"

That's a funny story, but Breneman says he does not have "Pennsylvania, pre-age 10 memories of comedy. My first memories of being a sapient individual come from baseball." He was a Pirates fan -- Stargell, Clemente -- "and I became a voracious consumer of all things baseball. My dad called me a walking encyclopedia." He was a shy kid, not loud. His mother Jill said he was an observer. "I didn't say much," which he said he preferred to "voluminous pie-hole ramblings." (Which is more my style.)

High school, in York, is where Breneman's first comic impulses manifested themselves. In English class, teacher Daniel Beetz told Breneman his writing was "strange, but good. That was not lost on me." A news-writing class he took in high school led to assignments, and Breneman said he "did an off-beat piece about the wombat. I just liked the sound of the word." The original article combined factual details and also "fake news" about the wombat. Right there you have the direct linear descendent of what Breneman does today.

The production side of the school newspaper, by the way, was so enamored with what he had written they named the paper "The Wombat Weekly." There's nothing like a little outside validation to give you confidence, and that's what happened. A class in broadcast journalism led to the production of "fake news bits" for a school TV news program. Breneman was named literary editor for the school yearbook, and he was quite right when he said: "There are some people who carry the load on the yearbook" and quickly adds: "I wasn't one of them." He wrote a poem, "Ode to a Wombat."

After graduating from Colby College, there was the proverbial trip around the country in a van with a friend. "We picked up a hitchhiker and there was something about attempted murder so he was the last hitchhiker," Breneman said of the trip. "When we got back it was very much like: Now what?" And his father gave him that advice, "Write stuff." The elder Breneman knew the then-editor of the York Weekly, Patti Hart, who gave Breneman his first professional gig, writing sports for the York Weekly, back when it was an independent-minded newspaper.

The career proceeded amiably, on a pleasingly upward arc, with a five-year stint in Cambridge, Massachusetts, where he wrote a humor column, and then a return to the Portsmouth Herald, where Breneman was the much-lauded Sunday editor. He also wrote his fake news pieces there.

But…but. "I needed to make the time to do what I love to do. Something was burning more brightly inside of me and that was the humor," he says. "There was frustration of not doing what I was really meant to be doing."

He had put a book together, pitched it, and received enough encouragement to "give me a taste." And so, rather than stew, rather than stay with the conventional and then look back at a life where the chance was not taken, Breneman left his job and immediately began work on his writing.

Now he is watching The Humor Gazette make a little splash. "My numbers are so tiny, but to watch them grow and watch them spike is exciting," he said.

Breneman is still working on the book, several in fact, and he hopes to make it into the Holy Grail for all fiction writers, The New Yorker (and has in fact received a couple of encouraging responses from that magazine). But in the meantime he continues to add fresh satire to his site, which, in the main, is a worthy addition not just to cyberspace but to the cultural life here in Portsmouth. It is John's hope, it is indeed my hope, that Portsmouth will be known as the home of this original and funny and sharp collection of writings.

"People say comedy is a difficult thing and I agree with that," said Breneman. "But the reason I know it's what I should do is because it's easy for me." Maybe so, but interrupting a career to pursue whatever dream one may have is not so easy. Good for him. And, by the way, good for us.

Lars Trodson can be reached at porttimes@aol.com