'Will you accept this hose?'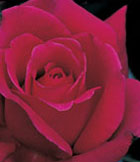 Also coming this fall:

"Stank Ho" (WB) - Two dozen crackheads compete for the affection of a nasty-ass prostitute, who they are told is "sitting on" several ounces of "shit."
"Cannibal Island" (PBS) - Survival of the sickest. Amateur cannibals compete for prize money while gnawing on hunks of human flesh.
Mike Fleiss, creator and executive producer of ABC's "The Bachelor," says that next season, some dramatic changes will be made in the program. "I think people are getting sick of the whole rose ceremony," said Fleiss, "so we've turned that part of the show inside-out."
In this summer's installment, instead of the rose ceremony in which each bachelorette continuing on to the next episode receives a rose, each bachelorette that will not be advancing will receive a two-foot long section of garden hose from the bachelor. In order to avoid contestants refusing to accept the hose, the $2,500 stipend that each bachelorette receives is contingent upon her taking the hose in hand, sniffing it and walking out of the room.
The hose ceremony is more in keeping with the reality of modern dating says Fleiss. "These days it's all about getting dissed," he said, adding that "what people really like about this program is watching the girls cry. The hose ceremony will definitely make them cry. The bachelorettes will all be lined up, and the bachelor will walk down the line, occasionally stopping to hand out a hose to one of the bachelorettes. Just picture a guy with a half-dozen lengths of hose in his hand stopping and saying 'Kristen, will you accept this hose?' This is going to be hilarious."

When asked if the new elimination process was a little mean-spirited, Fleiss said "Hell, yeah. We're also going to put spy cams in the bathroom."
---
Punk-ass celebrity punk quits Punk'd
By John Breneman
Celebrity nimrod Ashton Kutcher claims he is pulling the plug on his popular practical joke show "Punk'd," but no one knows whether to believe this or any statement uttered by the puckish pretty boy whose talent is dwarfed by his mammoth ego.
Kutcher first assaulted the public consciousness with his portrayal of a stupid, narcissistic punk on "That '70s Show," a role that catapulted him into movie stardom and led to an Oscar nomination for his performance as a moronic punk in "Dude, Where's My Hat?"
Eager to parlay his 15 minutes of lame into a career, Kutcher cleverly landed real-life roles as Demi Moore's boytoy and P. Diddy's fashionably dressed prank monkey. Then came "Punk'd," an MTV twist on the old "Candid Camera" formula.
There is some speculation that the merry prankster, whose victims have included Justin Timberlake, Beyonce Knowles and Moammar Qadhafi, may be leaving the show one step ahead of litigation, though Kutcher has denied rumors that he tricked bewildered rocker Ozzy Osbourne into flipping over an ATV.
Some critics argue that the show went too far, as when Kutcher fooled dim pop star Jessica Simpson into thinking she was related to O.J, or when he convinced actor Tim Robbins he was being sent to Guantanamo Bay, Cuba, to be detained as an "enemy of the state." He also is credited with bamboozling Democratic presidential candidates Al Sharpton and Dennis Kucinich into thinking they have a chance to win the White House.
Kutcher likes to brag that he is too clever to be "punked" himself, but someone has apparently fooled him into thinking that acting like an obnoxious, arrogant jackass is entertaining.

1-8-04

---
People magazine names Top 50 humans
People magazine today unveiled its first-ever special issue devoted to America's "50 Most Insignificant People." Topping the list is an California man who no one even knew existed until People's investigative team discovered him living in a shack made of popsicle sticks and chewing gum wrappers in the Mojave Desert.
John P. Doe said he hopes the recognition will help him achieve his lifelong dream job of pumping gas at a remote desert outpost.
Others making the prestigious list include Michael Jordan's hairdresser, former Vice President Dan Quayle and 47 Maytag repairmen.
The special edition was inspired by the success of the magazine's top-selling annual "50 Most Unusual Genitalia" issue, this year featuring Michael Jackson, Woody Allen and Spiderman.
In the coming weeks, People plans several additional top-50 issues: The "50 Most Intriguing Psychopaths" list is headed by Mike Tyson, O.J. Simpson and Robert Blake.

And the much-anticipated "50 Sexiest International Terrorists" cover features the smoldering West Korean evil-doer Saddam bin Arafat.

5-3-02