« Questions about firearms? Ask Professor Gunn | Page One | Your holiday horoscope »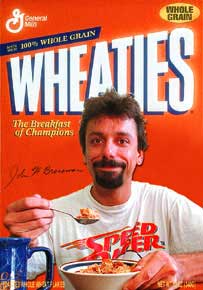 Welcome to the Humor Gazette
Hi, welcome to the Humor Gazette. I'm John Breneman, lifelong journalist and humorist -- four-time winner of the coveted Photoshop Yourself Onto a Wheaties Box Award.
I've posted hundreds of humor items here since my friend Jeff helped me launch the site in 2003. Recently, I've been snooping through my archive of newspaper stories, and have decided to post some of my favorites.
I was not scheduled to be in the newsroom on Sept. 11, 2001, but when I got there I was asked to write this essay to lead the next day's front page.

I was honored to meet Miss Ruth Jones, a proud descendant of the legendary abolitionist Frederick Douglass, at her home in Cambridge, Mass., on her 100th birthday.

One of the highlights of my five years editing the Cambridge (Mass.) Chronicle was our 150th anniversary edition of the Chronicle (honored as the year's Best Special Section by NEPA). I welcomed readers to the magazine with these words.

I've been reporting on New Hampshire's famed presidential primary since 1988. Here's my take on Al Gore's visit to Portsmouth during the 2000 campaign.

Bill Walsh was an extremely controversial Cambridge city councilor who disappeared after being indicted on bank fraud charges. I got him on the phone just before deadline for this interview.

My community was already reeling from an Air Force base closure when the news came that Loring AFB in northernmost Maine would also be shuttered. So I took off on a 24-hour road trip that produced this reporting.

Facing re-election, then-Gov. Bill Weld had this unexpected encounter with possible challenger Rep. Joe Kennedy.

Ozzie Sweet, photographic legend, is one of my favorite people of all-time.
Posted on December 1, 2013 8:54 AM | Permalink
---
Previous post: Questions about firearms? Ask Professor Gunn.
Next post: Your holiday horoscope.