May 21, 2013
Bicycle commute right in my wheelhouse
By John Breneman
Finally rode my bike to work on Thursday — just a man and his trusty iron steed.
We're a couple of old-timers, he and I. Combined age: 84. He's about 33, so that makes me what, 29ish? And though I am pretty sure we weren't the oldest man-cycle combo to saddle up for Bike to Work Week, my vintage Peugeot mountain bike could've been a contender for creakiest contraption on the mean streets of Portsmouth and Newington that day.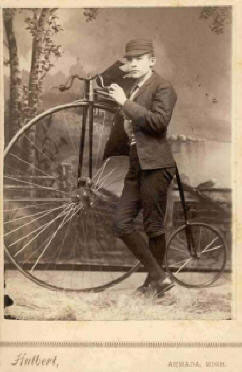 At least the creaks, rasps and groans emanating mostly from the crank case drowned out the softer sound of my own knees grinding (though fortunately not yet "bone on bone" as my mom is quick to inquire).
Ever since I ditched my Boston commute to join what is pound-for-pound one of the finest media organizations in the entire Fourth Estate, I've been periodically flapping my gums about riding my bike to work ... one of these days.
Experts say cutting the distance one must travel to "bring home the bacon" has a direct therapeutic impact on one's mental and physical well-being, with additional benefits for the psyche, super ego and soul.
The same is true of bicycling. Good for the heart and lungs, digestion, complexion, muscle tone and, of course, the pancreas. And it significantly reduces the risk of a range of maladies including but not limited to rickets, shingles and premature withering. (Sadly, reports of a more robust and satisfying sex life remain unconfirmed.)
When I worked in Boston, a bicycle commute just didn't seem feasible. Sure, I could've rolled down I-95 to 128, jumped on I-93 south, zipped across the Zakim Bridge and made it to the newsroom just in time for ...; the end of my shift.
But I was eager to escape the Beantown rat race. (Don't get me started on Massachusetts driving. Horns and hand gestures, angry faces on blithering idiots, close calls with the clueless. Ah, those weren't the days ...)
Now, from my humble homestead in downtown Portsmouth, the drive to my post at Pease International Tradeport is a mere 8 to 10 minutes, meaning there are few excuses not to make the commute by cycle.
My discovery that this would be Bike/Walk to Work Week set in motion a date with two-wheeled destiny — a knobby-tired, no-petroleum day of car-free karma.
So Thursday was the big day ... to make my carbon footprint small. Part of the thrill of the round-trip from Market Square to Pease and back is the presence of a very special pedestrian bridge right off Woodbury Avenue that allows walkers and two-wheelers to safely traverse the highway right at the traffic circle.
The bridge was erected around 1999, back when money could still be spent for the public good — long before a bunch of powerful jerks decided that investments in stupid stuff like education and human health was anti-American.
Thanks to this awesome little bridge (find details on it and other local cycling information at seacoastbikes.org) we two-wheeled types can steer clear of the highway.
Of course, I was hoping to see some wildlife. I've spotted deer and turkeys at Pease while driving my horseless carriage. So, surely — freed from the confines of my 2006 Honda Metal Box — I would spy a couple flocks of federally protected bald eagles, maybe a beaver or a porcupine. This is a rich habitat for birds but, truth be told, I probably wouldn't know an upland sandpiper from a pied-billed grebe.
I took it casual and made it to work in about 22 minutes. Felt super all day long and I highly recommend the experience to everyone.
For those who'd like to try it but fear you may have forgotten how to ride a bike, it is, as the saying goes, "like riding a bike."
First, use a damp cloth to wipe most of the cobwebs from your vehicle. Next, pray that the tires have enough air. (They won't, so add some. Don't worry about mixing 1994 air with 2013 air. And if you don't have any air at your house, you can usually buy some for 50 cents at a gas station.) Third, grasp your "handlebars" and assume the position. Once aboard the velocipede — shove off, old sport. Place your feet on the "pedals" and begin moving them in a circular-type motion.
This should cause the bicycle to begin moving. Do not panic. Instead calmly utilize the handlebars to steer yourself in the desired direction, harnessing your innate sense of balance to avoid tumbling onto the pavement and cracking open your face and/or skull.
Contrary to the example set by cycling legend Lance Armstrong, it is not necessary to gobble down fistfuls of steroids or to siphon off your own blood and replace it with higher-octane plasma.
For additional tips on bicycling, check out my new worst-sellers "Road Rash: Friend or Foe" and "Does This Spandex Make My Butt Look Ridiculous?"
(Bonus points for anyone who rides my childhood dream bike — a green Schwinn Sting-Ray with a banana seat, slick rear tire and five-speed stick!)
On the ride home, I opted for a quicker pace and made it back to Market Square in just 15 minutes. Enhancing my exhilaration, just as I was leaving Pease, a rambunctious jackrabbit bounded across my path, just feet from my front tire. (Wildlife sighting: Check.)
Now I'm not the best spokesman for the spoke-wheeled commute — not looking to proselytize the pedal-powered experience. But if biking to work sounds like fun, my advice is do it. And let neither crunchy knees nor creaky derailleurs derail you.
John Breneman, a Herald copy editor and columnist, can be reached at jbreneman@seacoastonline.com (Twitter: @MrBreneman).
Here's the link to my Sunday column at the Portsmouth (N.H.) Herald.
3:59 PM | Permalink
---
May 12, 2013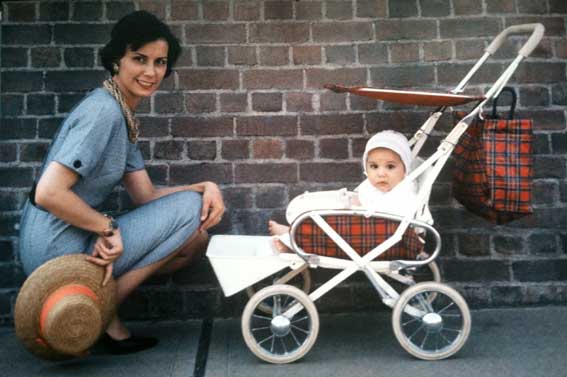 The mother of all Mother's Days
By John Breneman

Hey, it's Mother's Day. And, like any grown son, I am determined to do whatever it takes to let my mom know how much she means to me.
After all, over the last half-century, she has put up with a lot from her first-born — pranks, wisecracks, tantrums on topics ranging from lima beans (but I hate them) to high-top sneakers (pleeeaase) — as she gracefully guided my metamorphosis from cranky baby to cranky man. (Look how beautiful she is in the photo above, posing with yours truly sporting my favorite Sunday bonnet.)
But enough talk. Let's get to it.
Consistently voted one of the top mothers on the planet by an independent panel of people to whom she has given birth, my mom awakens to the intoxicating aroma of the finest Turkish coffee in all of Portsmouth.
The menu for my custom "breakfast in bed" Extreme Mother's Day amenity features a dizzying array of culinary delicacies, including but not limited to French toast imported from Paris, her beloved lobster mac and cheese, and a mimosa made with hand-squeezed oranges from the finest Hannaford's in the land.
Maybe even a pound of eels harvested in Hampton. You probably heard these little buggers go for as much as $3,000 a pound in parts of Asia. They sure must be delicious.
Now I know poaching eels is, as they say, eel-legal. But I figure a real son ought to be able to handle a short jail term to treat his mom to the mother of all Mother's Days. On second thought, scratch the eels. And while we're at it, let's say "no" to the escargot.
But the abnormally large fresh raspberries are served with a fondue medley featuring melted brown gold from the state-of-the-art Lindt & Sprungli chocolate factory.
Of course, there will be flowers. But not just the kind that grow in the dirt and smell pretty. Every mom gets those. I'm busting out a bouquet hand-blown by Dale Chihuly, the legendary glass artist whose work she enjoys.
After Leonard Cohen wraps up his personal mini-concert in her living room, I whisk my mom aboard a hired chopper for the quick flight down to New York, where we will enjoy VIP seating at a Broadway play I have written and staged recounting her remarkable life. (Vanity Fair: "Helen Mirren is mesmerizing!")
From there, we'll luxuriate in the stretch limo I've hired to roll up at her choice of Manhattan hotspots — the Gramercy Tavern, Trump's Diner or Forkie's Charcuterie.
Her spa treatment at Ohm is nothing fancy — just a typical full-body avocado immersion bath and hot-gemstone massage with the usual assortment of brick oven-warmed diamonds, emeralds and rubies.
While in New York, we visit United Nations headquarters, where our impassioned plea for world peace — a two-person interpretive drama featuring the elements of modern dance, opera, hiphop and Kung Fu — brought the ambassadors of East Korea and Malawi to tears.
I don't know if we'll have time to squeeze in tea (and sweet-buttered marmalade scones) with Hillary Clinton and Maya Angelou, but I hope so.
From there we skip, hand in hand, to my rented Gulfstream luxury jet for a quick jaunt to Africa to fulfill my mother's lifelong dream of frolicking with the meerkats. (Or was it the dolphins?)
After quick stops at the Pyramids and the Great Wall, we soar up to Kennebunkport where former president George H.W. Bush has promised us a ride on one of his cigarette boats. Swell guy, that Bush.
From there, we submarine it down the coast, up the Piscataqua and back to Portsmouth. (What, you forgot to rent your mom a private, submersible watercraft? Mmm.)
Now my mom is not particularly fond of heights so we err on the side of NOT tandem bungee jumping off the I-95 bridge.
Back home, it is the perfect time to unveil my two-hour documentary about her remarkable life as a wife, mother and children's store entrepreneur.
Titled simply "Jill," and narrated of course by Robert Redford and Jon Hamm, it traces her life story from her idyllic childhood in Crafton, Pa., to her epic pilgrimage to York, Maine, and then on to Portsmouth. The piece concludes with never-before-seen footage of her high school graduation — the most emotionally evocative piece of film I have ever seen.
So, as you have probably already surmised, the above itinerary has been slightly exaggerated. (But G. Willikers! It's her fault really, and my dad's, for sticking me with somewhat of a wild imagination.)
Though my mom might enjoy a whirlwind, multi-state Mom Day tour de force, I suspect she would rather spend Mother's Day what she calls the "traditional" way.
That means working at the family business with her daughter, then zipping across town to see her daughter's daughter (my niece if you do the math) in the internationally acclaimed Portsmouth High School production of "Hansel and Gretel." (Vanity Fair: "Zoe Sprankle is mesmerizing!")
Hollywood ending: During the standing ovation — as the entire theater echoes with applause, pride and joy — I hug my mom and tell her that I love her. Happy Mother's Day.
-- 30 --
* This column appeared in the Sunday, May 12, 2013, Portsmouth Herald. See more.
Twitter: @MrBreneman
10:03 PM | Permalink
---
May 5, 2013
Is Sen. Ayotte representing N.H. or NRA?
By John Breneman
I swear to God, the Senate's infuriating decision to reject expanded background checks for firearms' purchases despite 90 percent public approval is making me want to shoot (calm down) my mouth off — on this most divisive and vitally important issue.

As if more evidence was needed that guns can be extremely harmful, now poor Sen. Kelly Ayotte has shot herself in the foot trying to prove what a hard-core Republican she is.
I'm sorry, but I don't know what else you call it. She apparently analyzed the political landscape in the aftermath of the Newtown massacre (and all those before it, next one coming soon), absorbed the data that 90 percent of the public wanted background checks ... and then voted against the people who elected her.
And since doing so she's been all over the national news.
You've probably seen some headlines and poll numbers. "Ayotte approval rating plunges 15 percent." "Newtown victim's daughter confronts Ayotte at town hall event." "Ayotte's calculated allegiance to extreme right is wrong for N.H."
Actually, that last one is just my humble opinion.
Look, Kelly Ayotte is from New Hampshire so she's got that going for her. I'd much rather like her than have to write about how she's blowing it. I'm thinking maybe she's just been getting some bad advice.
Flash back to the Republican National Convention last August. As part of the payoff for buddying up with John McCain and Lindsey Graham, Republican "rising star" Ayotte was awarded a nice speaking spot.
Sadly, her most memorable line was pure political dreck. "President Obama has never even run a lemonade stand — and it shows."
Really? The bush-league lemonade stand quip leaves a sour taste as one of the least original lines ever (Louisiana Gov. Bobby Jindal used it last May and RNC Chairman Reince Priebus about a week later).
Coincidentally, one of the men whose approval she was courting — GOP nominee Mitt Romney — also had never run a lemonade stand. However, records show he did liquidate several lemonade operations and issued pink slips to their pre-teen proprietors.
Ayotte's vote and subsequent blowback provides a new window into the long-held Republican strategy of making sure absolutely nothing gets accomplished under President Obama — his opponents have not disguised the fact that they would rather deny the president any political victories than do their jobs working for the American people.
This strategy is reprehensible to me.
However, there are examples of Republicans working for the public good. One is Sen. Pat Toomey, R-Pa., who teamed up with Sen. Joe Manchin, D-W.Va., to craft the compromise background-check legislation known as the Manchin-Toomey proposal.
Sen. Toomey, whose approval numbers have risen in the wake of his advocacy for this modest gun safety measure, shared his view of Republican motives after the bill failed to pass the Senate.
"In the end it didn't pass because we're so politicized," he said. "There were some on my side who did not want to be seen helping the president do something he wanted to get done, just because the president wanted to do it."
Sen. Ayotte's explanation on why she voted against the bill, against 90 percent of the populace, defies credulity.
Confronted at a town hall event by a man who said he had read her four-page explanation of the vote and still did not understand, Ayotte said, "In terms of a universal background check, as it's been framed, I have a lot of concerns of that leading to a registry that will create a privacy situation for lawful firearms owners."
Kelly Ayotte knows that is bull. She knows that, in an attempt to achieve compromise, Manchin and Toomey specifically ban the creation of a federal registry and establish harsh penalties for doing so. And her attempt to snooker New Hampshire voters with the far right's "federal registry" talking point was positively cringe-inducing.
Sen. Ayotte's real answer to the gentleman's simple question — "What's wrong with universal background checks?" — is this: "Powerful people whose money and support I believe I need do not want background checks or any gun-safety measures, and their support is more important to me than working to create a safer world."
Meanwhile, the National Rifle Association holds its annual meeting this weekend in Houston — and the "cold dead hands" people are, uh, bringing out the big guns.
Ted Cruz. Rick Perry. Bobby Jindal. Rick Santorum. Glenn Beck!
And, of course, Sarah Palin. (Remember when she featured Rep. Gabby Giffords and other Democrats on a hit list and mapped their districts with bull's-eyes? That was before Giffords was shot in January 2011.)
But the speeches — part of what's being billed as a "Stand and Fight" rally — are all a prelude to the keynote hater. Bullet-brained rock star Ted Nugent.
Back in 2007, Nugent was quoted as saying, "Barack Obama, he's a piece of (dung). I told him to suck on my machine gun" and telling Hillary Clinton, while brandishing two machine guns onstage, "You might want to ride one of these into the sunset you worthless (witch)."
Yes, that is the man the NRA has chosen to make the big speech on the closing day of its big convention.
As I said before, I really want to like Sen. Kelly Ayotte.
But first I'm afraid she'll have to chose another path than rolling with the Ted Nugent wing of the Republican Party.
-- 30 --
* This column appeared in the Sunday, May 5, 2013, Portsmouth Herald. See more.
Follow on Twitter: @MrBreneman
Related stories:
Value the human race over the arms race
(Dec. 30, 2102, commentary on Newtown)
9:10 AM | Permalink
---
December 19, 2012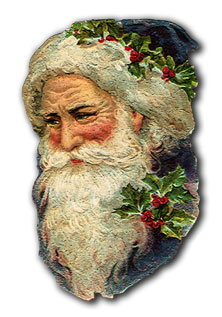 Your holiday horoscope
Have you got all your shopping done? Cards mailed? Packages shipped? Menus planned? Tree trimmed? Halls decked?
Celebrating the birth of Jesus is truly a joyous time. But the buildup to the birthday bash can also bring stress. What with all the bells and candy canes and tinsel and gingerbread men and pine needles and nutcrackers and fruitcakes and ribbons and little drummer boys and frankincense and geese-a-laying and mangers and reindeer and sugar plums and elves and figgy pudding and mistletoe and singing chipmunks and consumerism gone haywire.
Have you got the Christmas spirit yet? I thought I had it a couple days ago, but turns out it might have been just a head cold.
So now with the winter solstice nearly upon us, unseen celestial forces have inspired me to put together a holiday horoscope to help celebrate the birth of our savior (who apparently was a Capricorn) during that special time of year when Jupiter aligns with the North Star in the House of Kringle.
Sagittarius (Nov. 22-Dec. 21): Consult key family members before spending 30 percent of your net worth on "holiday bargains." Good day to fill your spiritual void with ribbon candy. Tis the season for identity theft.
Capricorn (Dec. 22-Jan. 19): Temporarily suppressing your fears about man's inherent capacity for evil helps make the holidays more joyful. Avoid truthfulness when talking to young children about Santa Claus. Have another eggnog.
Aquarius (Jan. 20-Feb. 18): Beware unrealistic promises made by an obese bearded man wearing red. Paying more than $99 for a candy cane could prove fiscally unsound. Lift your spirits by donning some gay apparel.
Pisces (Feb. 19-March 20): Dashing through the snow in a one-horse open sleigh could exacerbate an old injury. Beware Jack Frost nipping at your wallet. Myrrh may be hazardous to your health.
Aries (March 21-April 19): Wise bargain hunters may find five golden rings for the price of four. Buying a Red Ryder BB gun helps ease your emotional pain. Be joyful and triumphant at dusk.
Taurus (April 20-May 20): Opt for a mundane evening at home over a three-state shopping spree. Good night to nestle the children all snug in their beds. Keep tinsel out of the reach of infants.
Gemini (May 21-June 20): If the weather outside is frightful, sitting by an indoor fire may prove delightful. However, shouting "Ho, ho, ho!" could spoil an intimate moment. Don't lose your mittens.
Cancer (June 21-July 22): It's lovely weather for a sleigh ride together with a loved one. But be sure to exercise caution when traveling over the river and through the woods. Too much mulled cider may cause visions of sugar plums.
Leo (July 23-Aug. 22): Question the motives of anyone sporting a button nose and two eyes made out of coal. A quiet evening with a corn-cob pipe could bring revelations. Sleep in heavenly peace.
Virgo (Aug. 23-Sept. 22): Making an obscene gesture in a crowded mall parking lot could lead to an unwanted gunshot wound. Reassess your holiday preparedness with special focus on yuletide logistics. Avoid chimneys.
Libra (Sept. 23-Oct. 22): An unexpected moment of serenity is dashed by a TV commercial imploring you to buy a piccolo. Don't let reason cloud your judgment on matters involving elves. Stock up on frankincense
Scorpio (Oct. 23-Nov. 21): Don't let a loved one's hints about "the perfect gift" distract you from getting him or her a Walmart certificate. Limit contact with acquaintances who say they will be there "with bells on." Be good for goodness sake.
By John Breneman
(Twitter: @MrBreneman)
I write a Sunday column at the Portsmouth (N.H.) Herald.
Read more horoscopes here
10:05 AM | Permalink
---
August 11, 2012
Here's an exclusive sneak peek at Republican vice presidential candidate Paul Ryan's Medicare voucher coupons!!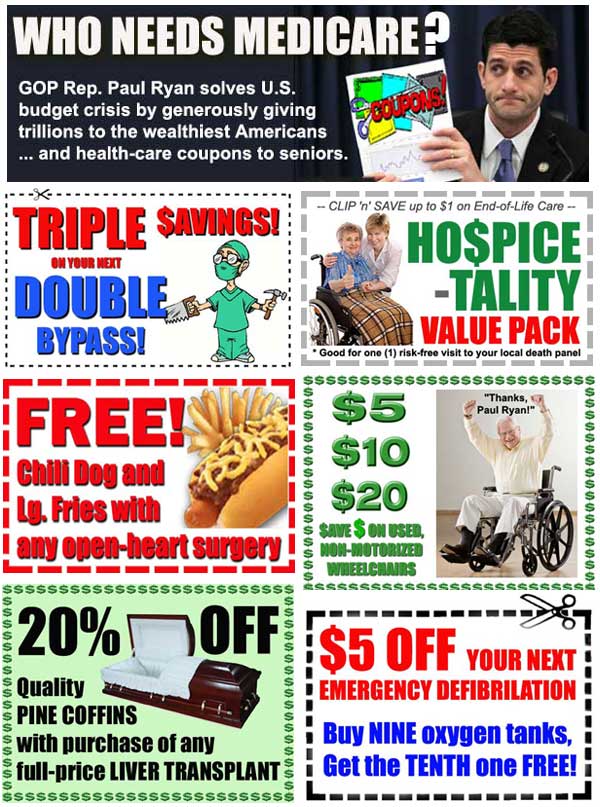 Beat the rush!! CLICK here to clip your jumbo-sized COUPONS!!
Follow @HumorGazette on Twitter
9:21 AM | Permalink
---
June 18, 2012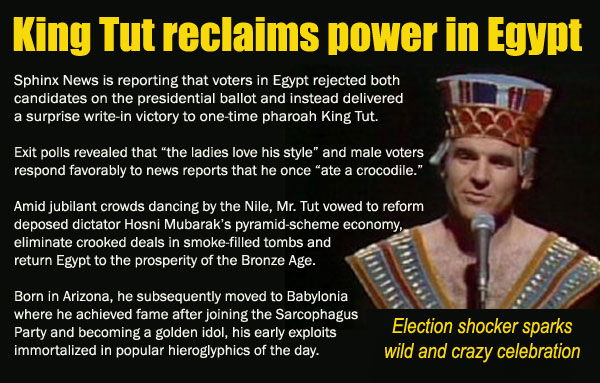 6:36 AM | Permalink
---
June 8, 2012
Kim Kardashian does NOT endorse miracle sex pill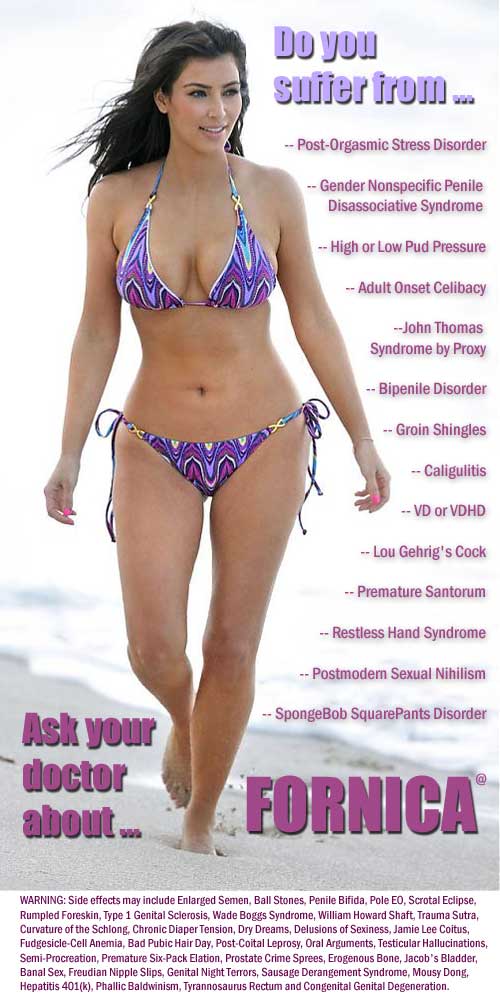 9:12 AM | Permalink
---
June 1, 2012
Bush portrait unveiling accomplished
By John Breneman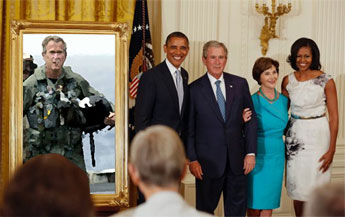 George W. Bush popped by the White House yesterday for old time's sake -- dishing out his signature knee-slappers at the unveiling of his official portrait.
And while it was vaguely inspiring to celebrate a rare moment of bipartisanship, the triumphant return of the Smirker in Chief also left me cringing.
Because the true portrait we are left with -- despite President Obama's gracious acknowledgement that he showed "extraordinary strength and resolve" after 9/11 -- is that of a president who ignored red-flag warnings about Sept. 11, misled us into the Iraq debacle and helped fuel the economic meltdown under his watch.
And never lost his ability to joke about it.
Remember the time (March 26, 2004 at the Radio & Television Correspondents' Assoc. dinner) he slayed 'em by starring in a comedy video in which he pretended to poke around the White House looking for those phony WMDs?
What Bush found funny, I found appalling -- especially as I imagined how the parents of a soldier slain in Iraq must have reacted. But perhaps I was too harsh when I dubbed Dubya's performance: "A Comic Bomb."

And maybe I was too hard on the president when I dissected this (April 5, 2006) gut-busting standup routine and by saluting him as "Commander-in-Cheek."

After all, he was the top banana -- a self-styled master of mixing laughter with terror. Check out his innate comic timing as he warms up a crowd gathered at Kansas State University for a Jan. 2006 talk about terror and 9/11 and spying with a taste of his classic "Everybody Loves W." shtick.

In retrospect, perhaps I was too hard on the distinguished Texas Air National Guard hero in delivering my armchair diagnosis (Jan. 6, 2006) that he suffered from a particularly nasty case of "Iraq-tile dysfunction."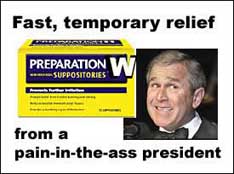 But hey, I did write an (albeit satiric) editorial endorsing the man (Aug. 31, 2004), opining that America needed a president "who is not afraid to take action in the face of questionable intelligence -- a man capable of making profound, far-reaching decisions undistracted by knowledge, logic and reason."

Anyway, if with yesterday's East Room monologue Mr. Bush meant to remind us that the wise-cracking 43rd president was a stone-cold chucklehead -- all I can say is mission accomplished.
RELATED MATERIAL:
Images, essays and videos from what some consider the Golden Age of Presidential Satire (2000-08)
9:33 AM | Permalink
---
May 27, 2012
America inspired me to create this image today

9:33 AM | Permalink
---
May 25, 2012
America riddled with Political Irony
Keen observers of the American politial scene understand that it is rife with irony -- not to mention malfeasance, mendacity and mind-numbing skullduggery.
Washington is awash in legalized bribery, flip-floppery and flaming hypocrisy -- churning out a surplus of oxymorons, regular morons and stone-cold, bought-and-paid-for, bamboozling-the-public morons.
But back to the irony... The Humor Gazette has learned that there is an excellent website whose mission is to help cut through the chaos -- PoliticalIrony.com.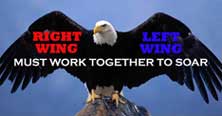 This is a website so astute that this week it featured a high-profile plug for the Humor Gazette, featuring our regal bald eagle boldly calling out our nation's leaders. Please stop by for a visit and tell 'em the Humor Gazette sent you.
Thank you, also, to California-based Humor Times -- an old-school, new-media humor publication that "lampoons lame politicians" while featuring the best in editorial cartoons, columns and "fake news better than Fox's."

5:39 AM | Permalink
---
May 24, 2012
Rolling Stones announce 'Fossils' world tour

The Rolling Stones today announced plans for a worldwide "Dig the Fossils" tour opening Aug. 18 at Fenway Park -- marking the first time the Stones have played Boston since 1918.
Wrinkly frontman Mick Jagger -- now almost fully recovered from his very funny performance on "Saturday Night Live" -- was recently named "Sexiest Sexagenarian Alive" by AARP magazine.
The Stones (aka "Their Arthritic Majesties") have updated many of their best-loved songs to reflect their advanced age. The following is a partial list of old favorites the band is expected to play.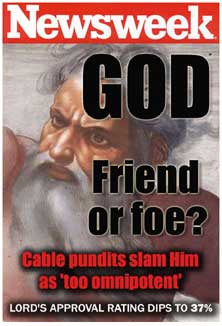 "Jumpin' Jack Kevorkian"
"Gimme Assisted Living Shelter"
"19th Digestive Breakdown"
"Grandmother's Little Helper"
"Bypass Surgery for the Devil"
"You Can't Always Get the Prescription Drugs You Want"
"Gray Sugar"
"When the Hip Goes Down"
"Faraway Eyeglasses"
"Start My Pacemaker Up"
"Time is NOT on My Side"
10:51 PM | Permalink
---
May 21, 2012
Mitt Romney endorsed by Joe the Plumbing Corp. CEO
Mitt Romney's presidential campaign received a major boost today with an endorsement by an iconic American business executive -- Joe the Plumbing Corp. CEO.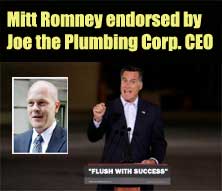 A spokesman for Joe the Plumbing Corp. CEO said he supports Romney's plan to fund tax cuts for the wealthy by cutting programs that help Joe Six-Pack and Jane Lunch-Bucket. He also supports Romney's hard-line stance cracking down on Jose the Illegal Immigrant.
Sources say Joe the Plumbing Corp. CEO is a distant cousin of Joe the Plumber -- a fixture on the 2008 campaign trail as John McCain's favorite metaphor for pandering to the middle class.
Now running for Congress in Ohio, Joe the Plumber is also plugging a book and filming a hip, 1990s-style sitcom called "Flush Prince of Bill Ayers." He's also thinking of actually getting his plumber's license.
Pundits say Romney will soon be announcing new endorsements from Joe the Birther Joe the Eccentric Billionaire and Joe the Wall Steet A-Hole.
RELATED STORY: GOP hires Joe the Carpenter to fix debt ceiling

10:54 AM | Permalink
---