« Bicycle commute right in my wheelhouse | Page One | Local warming comes with a warning: Sun may cause fun »
Happy Birthday to URL: World Wide Web turns 20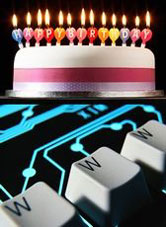 Bust out the e-candles and virtual cake ...; the Internet has turned 20.
Created either by brilliant scientists or by God himself, depending on your political beliefs, the Internet has given us countless spectacular advances in the way we live — and avoid living — our lives.
Don't worry about buying a gift. Because, really, what do you get for the all-pervasive global system of interconnected computer networks that has, literally, everything?
Back then it was known as the World Wide Web or the Information Superhighway. (Remember?)
I began writing about the Internet back when it was just a toddler. And I have to admit I was highly skeptical and a smidge cynical about this new sci-fi reality called Cyberspace.
"Some say Cyberspace is humanity's next great frontier. Others say it's South Berwick," said me, back in 1998.
Along with some rambling observation that included references to "the Hubble kaleidoscope," "NASA-trained rhesus monkeys" and "the Rev. Demetrius Dotcom," I postulated that perhaps:
"Cyberspace is not a frontier at all, but a complicated online conspiracy designed to make technologically challenged folks feel like the protagonist in the ground-breaking computer illiteracy study "Why Can't Johnny Access his AOL Web Browser with Only 4 Mgs of RAM on his Apple LCIII."
I also made several predictions, forecasting (and I remain confident the announcement will be coming out soon) that computer industry giant Microsoft would team with sports industry giant Nike.
Their new mega-company, Nicrosoft, would unveil a new line of computerized Air Hyperlink basketball shoes — featuring durable coaxial laces connecting a Velcro modem, an advanced toe-action keyboard, a cushioned odor-reducing hard drive and, embedded in the sole, a gum-rubber color monitor with 500 pixels per square inch of traction surface.
This has not yet come to pass, but the idea now sounds just slightly less farfetched than Google Glass — the state-of-the-art eyewear designed to slap a sweet computer interface onto everybody's outer face.
I also predicted that the people at Doritos would unveil a new silicon tortilla chip with a then-unprecedented 56 kilobytes of nacho cheese flavor.
The Internet's 20-year milestone seems like an ideal time to unveil my top six new predictions for 2013:
1. Time Warner Inc. — on behalf of Warner Bros. cartoon icon Tweety Bird — will sue Twitter for $500 million. Attorneys for diminutive yellow bird will charge that Twitter, whose logo is a diminutive blue bird, is guilty of "toppy-white infwinz-ment" and theft of "inta-wectual pwa-puddy." The suit will also request unspecified damages for "pain and tuffawing."
Tweety will demand that Twitter cease and desist from using the term "tweet" in its business practices — citing a negative impact on the Tweety Bird product line of pajamas, bobbleheads and speech impediment DVDs.
2. Yahoo will announce that it has purchased — for elevendy billion dollars — a time-wasting social media site called either Fritter, DillyDally or TimeSuck.com. The deal will include a lucrative option to acquire Yammer, LollyGag and BrainFreeze.
3. In a move certain to "revolutionize" the way people blow money on intensely hyped gadgets, Gillette will unveil a state-of-the-art, five-blade razor featuring a built-in cellphone, wireless hotspot and cool GPS navigation.
Powered by a micro-nuclear core that makes it illegal in most Axis of Evil countries, the device will enable shavers/users to watch a full selection of movies, sports and cat videos on its high-def, 5mm plasma screen.
4. Following in the footsteps of college dropouts (from Bill Gates to Steve Jobs to Mark Zuckerberg) who start billion-dollar companies, a brilliant second-grader will drop out of elementary school to become CEO of a new company after inventing Baby's First Laptop, a durable, lightweight supercomputer fashioned out of a Slinky, Barbie hair filaments and an Easy-Bake Oven — using proprietary Silly Putty circuitry to make it ultra-resistant to saliva, spilled milk and Gerber strained peas.
5. A talented hacker will be imprisoned after developing a protocol to gain wireless access to any human brain that is not protected by cerebral anti-virus software.
6. Google, Yahoo and Facebook will NOT take part in a bidding war to acquire Humor Gazette, a satire Web site a friend and I launched in 2003.
Back in 1993, the Internet was a mysterious curiosity discussed using a new gibberish-based language. And I admit it took me a while to appreciate the linguistic elegance of such terms as "http://www.haha.reboot.fiddlesticksandpomegranates.html." My e-mail might as well have been gimmeabreak@wtf.com.
But now, just two decades later, this young World Wide Whippersnapper affects virtually every aspect of modern human life.
And you can read all about it in my new 140-character, New York Times worst-seller: "Dear Internet: We're All Super-Addicted Now So Please Don't Hurt Us."
* This column appeared in the Sunday, May 26, 2013, Portsmouth Herald. See more.
Twitter: @MrBreneman
Posted on May 26, 2013 9:14 AM | Permalink
---
Previous post: Bicycle commute right in my wheelhouse.
Next post: Local warming comes with a warning: Sun may cause fun.