« Local warming comes with a warning: Sun may cause fun | Page One | Ode to Portsmouth: Paradise by the Piscataqua »
Father's advice to son was 'write stuff'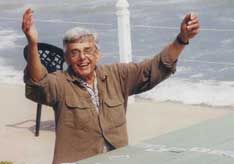 By John Breneman
What's that, chum? Father's Day kind of snuck up on you again. Well, no need to panic. Heartfelt gifts for Dad can be found just about anywhere — from Walmart to the corner Pump 'n' Pay. These last-second surprises are sure to let Dad know exactly how much you care:
Tube socks: Dad'll feel like a million bucks in these buck-ninety-nine ($1.99) beauties — each emblazoned with the three horizontal "racing stripes" that say "he's the man."
Tie: Wait'll the boys at the office get a load of Dad in this swell corporate-looking necktie — fashioned from durable, non-flame-retardant polyester.
Coffee mug: His eyes'll twinkle like they did on the day you were born when he sees this one-of-a-kind "World's Greatest Dad" mug.
Pack of smokes: This one's a no-brainer if Pop's a smoker. Sure they're unhealthy; but hey, who cares what that bossy Surgeon General says. Dad'll love how the intoxicating blend of tar and nicotine makes him feel manly and super cool.
Slippers: Comfort is important to hard-working dads in their leisure time and these lightweight Taiwanese "mock-asins" are perfect for kicking back in the La-Z-Boy. (Newspaper not included.)
Can of mixed nuts: These generic morsels pack a party in every can. Coupled with a Post-It note reading "I'm nuts about Dad," this item helps you express the true meaning of Father's Day.
Roll of duct tape: Perfect for household projects or Homeland Security preparedness, this space-age super-product will help Dad feel like the ultimate handy man.
Greeting card: Though it actually requires some thought, devoted offspring often like to compose a personalized message for Dad on his special day (example: "You're a champ, Pops!"), while creative types may add a "heart" symbol to underscore their affection.
Lighter: Give Dad the ability to make fire with just the flick of his thumb. He'll be so grateful, he'll bust out the T-bones and fire up the grill — instant barbecue!
* * *
Of course, I am kidding — just having a little fun with the idea that dumb Father's Day gifts are one of those oddball American traditions.
My dad died a few days before Christmas in 2005. And, boy, did he love to laugh. He also, as parents do, possessed profound insight into the lives of his children.
When I graduated from college, I knew that I loved to write but had little idea about what type of career to pursue.
But my dad did. He told me to go see the woman ran who our hometown York Weekly — guiding me directly into what has become a deeply fulfilling 30-year career in journalism.
Yet another "light-bulb moment" from a man who used to bring home the bacon creating advertising campaigns in a Pittsburgh skyscraper with the firm Ketchum, MacLeod & Grove. Yes, my dad was an ad man like those guys on "Mad Men."
Over the years, I have thanked him in print for nudging me into the newspaper world — a field with limitless possibilities for creativity and personal discovery.
June 1999, in this newspaper, I roasted him with a rollicking Father's Day salute under the headline (borrowed again today): Father's advice to son was "write stuff." It began: "I'm in the newspaper business today thanks to the nurturing influence of a very wise gentleman. Nelson Mandela."
No secret that my ever-present impulse to blend humor and humanity comes from my dad — self-described "Depression baby" turned dashing young Air Force pilot, advertising exec, mid-life adventurer, small business co-creator — and from my mom.
I am also joking when I say that his words of wisdom included: "Keep your eye on the ball to prevent ghastly facial injuries" and "Wait at least 30 minutes after eating lemon meringue pie before scuba diving for pirate treasure in the York River."
June 1991, in this newspaper, I interviewed him on the subject of fatherhood.
He was never big on those "when I was your age" speeches. You know the ones: The old-timer tells how in order to get to school each day he had to crawl 12 miles on his belly through the jungles of Vietnam, swim through a boiling tar pit teeming with leeches and piranhas, and then pole vault over a barbed-wire electric fence to beat the first-period bell at 4:45 a.m.
Asked about being a father by his first-born child, he dialed the Humor Meter down to 3 and dropped a few pearls.
"The joys of fatherhood are so bountiful and overwhelming. ...; It's like the emergence of spring a thousand-fold," said Ernie Breneman, describing "a cycle of fulfillment that comes first with your own growth and then with the growth of others you brought into the world."
Upon his death, at a small service in his honor, I knew he'd want to hear some wordplay. Here is a small snippet of what he moved me to say:
He loved laughing with everyone, he was gentle and kind. And there was something truly special about his beautiful mind.
Contemplation. Rumination. Meditation. A million-and-50-watt imagination. Still (and forever) feeding me inspiration.
* This column appeared in the Sunday, June 16, 2013, Portsmouth (N.H.) Herald. See more.
Twitter: @MrBreneman
Posted on June 16, 2013 1:01 PM | Permalink
---
Previous post: Local warming comes with a warning: Sun may cause fun.
Next post: Ode to Portsmouth: Paradise by the Piscataqua.