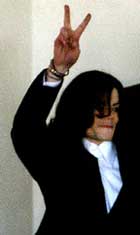 Jacko takes Iowa
Michael Jackson coasted to victory in the Iowa presidential caucuses on Monday, receiving an avalanche of votes from citizens left so numb by round-the-clock "Jacko" coverage that when they got to the polling place his was the only name they could think of.
The result surprised pollsters who predicted that, despite an 11th-hour endorsement by Nation of Islam leader Louis Farrakhan, the embattled entertainer would finish no better than sixth.
"Voters want a candidate who can capture their imagination," said pundit Johnnie Cochran. "Now those other guys are boring, dull. But you take just one look at Michael and your imagination is working overtime."
Political analysts said Jackson's failure to make a single live appearance in Iowa didn't hurt him because his image could be seen on TV approximately five hours a day. No candidate could match Jackson's grassroots organization, those millions of followers throughout the world who demonstrate cult-like allegiance to the spooky, mask-faced King of Pop.
Jackson also enjoys strong support among middle-class Iowa voters, who appreciate his lunch-bucket work ethic and his decision to turn Caucasian. Conventional wisdom says the victory catapults Jackson into front-runner status heading into the Jan. 27 primary in New Hampshire.
In other election news: Democratic contender Wesley Clark got a jump on his New Hampshire primary rivals by proclaiming himself a big fan of the Super Bowl-bound New England Patriots football team.
"I was rooting for the Pats way back last week when those other guys were pretending to like the University of Iowa basketball team," said Clark, who dressed himself up in a Patriots jacket, hat and Lawyer Milloy jersey to watch Sunday's AFC championship game at a bar in Sunapee, N.H.
"I'm a patriot, too," the retired general said as he pretended to take a realistic blue-collar swig of Samuel Adams beer.

1-20-04