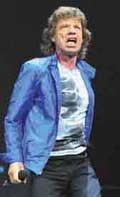 Fossil yields clues about Stones' age
"Jumpin' Jack Kevorkian"
"19th Digestive Breakdown"
"Grandmother's Little Helper"
"Bypass Surgery for the Devil"
"Gimme Assisted Living Shelter"
"You Can't Always Get the Prescription Drugs You Want"
"Gray Sugar"
"When the Hip Goes Down"
"Faraway Eyeglasses"
"Start My Pacemaker Up"
"Time is NOT on My Side"
LONDON -- Archaeologists today unearthed fossilized evidence that the Rolling Stones, originally thought to have formed in the mid-20th century, actually were created by geologic forces during the waning days of the Neolithic Era.
The discovery of the Stone Age fossil, which bears the impression of a giant set of human lips with a tongue sticking out, comes just as the aging rockers have embarked on yet another world tour.
The dig also turned up several crude guitar picks and - scrawled on a piece of woolly mammoth skin - lyrics to the classic Stones hit "Monkey Man," now being interpreted as a biting musical commentary on mankind's evolution from Neanderthal to Cro-Magnon.
Rock historians are ecstatic over the findings, which also mean that legendary Stones front man Mick Jagger, until recently thought to be 58 years old, is actually closer to 5,800.
The Stones (also known as "Their Arthritic Majesties") have updated many of their best-loved songs to reflect their advanced age. The following is a partial list of old favorites the band is expected to play.