« Inauguration Day satire | Page One | Rush, Newt back Sotomayor for Supreme Court job »
Captain Freedom here to satirize the day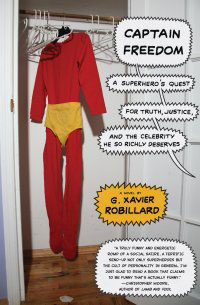 Captain Freedom (aka mild-mannered satirist Newton-based satirist G. Xavier Robillard) flies in to the Brookline Booksmith tomorrow evening to single-handedly read from his new book "Captain Freedom: A Superhero's Quest for Truth, Justice and the Celebrity He So Richly Deserves."
Captain Freedom's many triumphs in keeping the world safe for de-mock-racy include his recent victory in the fourth annual HumorFeed Satire News Awards, for his rollicking exclusive "Baristas Claim Obama's Coffee Not Black Enough."

"Captain Freedom," just published by HarperCollins, is the first novel for the busy Robillard, who runs the humor Web site AllDayCoffee.net.

Visit Captain Freedom online or see him in person tomorrow (Feb. 11) 7 p.m. at the Brookline Booksmith, 279 Harvard Ave., Brookline MA.

And don't forget to support Freedom by purchasing copies of his new book.
("I laughed until I accidentally spun a web." -- Spider-Man)
("Very comical, indeed." -- Bruce Wayne)

Posted on February 10, 2009 12:49 PM | Permalink
---
Previous post: Inauguration Day satire.
Next post: Rush, Newt back Sotomayor for Supreme Court job.