« Paul Ryan's Medicare coupon BONANZA!! | Page One | Is Sen. Ayotte representing N.H. or NRA? »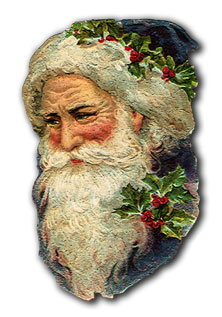 Your holiday horoscope
Have you got all your shopping done? Cards mailed? Packages shipped? Menus planned? Tree trimmed? Halls decked?
Celebrating the birth of Jesus is truly a joyous time. But the buildup to the birthday bash can also bring stress. What with all the bells and candy canes and tinsel and gingerbread men and pine needles and nutcrackers and fruitcakes and ribbons and little drummer boys and frankincense and geese-a-laying and mangers and reindeer and sugar plums and elves and figgy pudding and mistletoe and singing chipmunks and consumerism gone haywire.
Have you got the Christmas spirit yet? I thought I had it a couple days ago, but turns out it might have been just a head cold.
So now with the winter solstice nearly upon us, unseen celestial forces have inspired me to put together a holiday horoscope to help celebrate the birth of our savior (who apparently was a Capricorn) during that special time of year when Jupiter aligns with the North Star in the House of Kringle.
Sagittarius (Nov. 22-Dec. 21): Consult key family members before spending 30 percent of your net worth on "holiday bargains." Good day to fill your spiritual void with ribbon candy. Tis the season for identity theft.
Capricorn (Dec. 22-Jan. 19): Temporarily suppressing your fears about man's inherent capacity for evil helps make the holidays more joyful. Avoid truthfulness when talking to young children about Santa Claus. Have another eggnog.
Aquarius (Jan. 20-Feb. 18): Beware unrealistic promises made by an obese bearded man wearing red. Paying more than $99 for a candy cane could prove fiscally unsound. Lift your spirits by donning some gay apparel.
Pisces (Feb. 19-March 20): Dashing through the snow in a one-horse open sleigh could exacerbate an old injury. Beware Jack Frost nipping at your wallet. Myrrh may be hazardous to your health.
Aries (March 21-April 19): Wise bargain hunters may find five golden rings for the price of four. Buying a Red Ryder BB gun helps ease your emotional pain. Be joyful and triumphant at dusk.
Taurus (April 20-May 20): Opt for a mundane evening at home over a three-state shopping spree. Good night to nestle the children all snug in their beds. Keep tinsel out of the reach of infants.
Gemini (May 21-June 20): If the weather outside is frightful, sitting by an indoor fire may prove delightful. However, shouting "Ho, ho, ho!" could spoil an intimate moment. Don't lose your mittens.
Cancer (June 21-July 22): It's lovely weather for a sleigh ride together with a loved one. But be sure to exercise caution when traveling over the river and through the woods. Too much mulled cider may cause visions of sugar plums.
Leo (July 23-Aug. 22): Question the motives of anyone sporting a button nose and two eyes made out of coal. A quiet evening with a corn-cob pipe could bring revelations. Sleep in heavenly peace.
Virgo (Aug. 23-Sept. 22): Making an obscene gesture in a crowded mall parking lot could lead to an unwanted gunshot wound. Reassess your holiday preparedness with special focus on yuletide logistics. Avoid chimneys.
Libra (Sept. 23-Oct. 22): An unexpected moment of serenity is dashed by a TV commercial imploring you to buy a piccolo. Don't let reason cloud your judgment on matters involving elves. Stock up on frankincense
Scorpio (Oct. 23-Nov. 21): Don't let a loved one's hints about "the perfect gift" distract you from getting him or her a Walmart certificate. Limit contact with acquaintances who say they will be there "with bells on." Be good for goodness sake.
By John Breneman
(Twitter: @MrBreneman)
I write a Sunday column at the Portsmouth (N.H.) Herald.
Read more horoscopes here
Posted on December 19, 2012 10:05 AM | Permalink
---
Previous post: Paul Ryan's Medicare coupon BONANZA!!.
Next post: Is Sen. Ayotte representing N.H. or NRA?.