Global economy blues
Gazette exclusives
Drill Sergeant loses it
(YouTube sensation!)
Handy sites
About.com (Political Humor)
Alexa
Alternet
Bartcop
Borowitz Report
BuzzFlash
BuzzMachine
Fark
Dictionary.com
Glossy News
Google
Media Matters
New York Times
ThePoliticalCarnival
Romenesko/Poynter
Satire Awards
Word.com
« Favre paralyzed, comatose -- ready to play | Page One | Palin claims 2010 Miss Information crown! »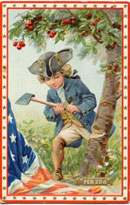 Palin uses chainsaw to 'stump' for votes
Her Republican rivals may want to rethink their boring old stump speeches, because Sarah Palin is blazing the campaign trail with a big-ass chainsaw -- turning tall Alaska trees into actual stumps. VIDEO
The made-for-TV moment last night on "Sarah Palin's Alaska" (her TLC reality show/campaign ad) electrified the influential Joe the Lumberjack demographic and left potential presidential rivals gagging on her sawdust.
The move sharpened Palin's edge over GOP deadwood Mitt Romney and Newt Gingrich, who've yet to fell a fir or gun down a single caribou.
Sarah probably figures, hey, two of our finest presidents were known for cutting wood -- but unlike rail-splitting Honest Abe and George the Cherry-Tree Chopper, Death-Panel Palin has never been constricted by the inability to tell a whopper.

Posted on December 27, 2010 2:34 PM | Permalink
---
Previous post: Favre paralyzed, comatose -- ready to play.
Next post: Palin claims 2010 Miss Information crown!.