Global economy blues
Gazette exclusives
Drill Sergeant loses it
(YouTube sensation!)
Handy sites
About.com (Political Humor)
Alexa
Alternet
Bartcop
Borowitz Report
BuzzFlash
BuzzMachine
Fark
Dictionary.com
Glossy News
Google
Media Matters
New York Times
ThePoliticalCarnival
Romenesko/Poynter
Satire Awards
Word.com
« Incredible Hulk implicated in steroid probe | Page One | Speed Racer busted for speeding »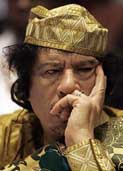 Libyan protesters demand ouster of Gadhafi, Khadafi, Qadhafi and Khaddaffi
Libyan crazy man Moammar Gadhafi is reportedly "going ballistic" as protesters call for an end to his four-decade reign.
Col. Qaddafi, whose name is routinely spelled Gaddafi, Kadhafi, Qadhaffi, Khaddafi and countless other variations in media reports, is not only a ruthless despot -- he's also a raving schizophrenic, with at least one outlandish personality for each spelling of his name.
Sources describe him as "a real dictator's dictator" with a fondness for mustard gas, donkey prostitutes and human oppression. A defiant Khaduffy has vowed to remain in power -- pledging to govern his people to death if necessary. His vow to battle protesters to the "last drop of blood" (theirs, not his obviously) sent the price of blood spiking to over $100 a barrel. (MORE)

Posted on March 18, 2011 9:30 AM | Permalink
---
Previous post: Incredible Hulk implicated in steroid probe.
Next post: Speed Racer busted for speeding.