Global economy blues
Gazette exclusives
Drill Sergeant loses it
(YouTube sensation!)
Handy sites
About.com (Political Humor)
Alexa
Alternet
Bartcop
Borowitz Report
BuzzFlash
BuzzMachine
Fark
Dictionary.com
Glossy News
Google
Media Matters
New York Times
ThePoliticalCarnival
Romenesko/Poynter
Satire Awards
Word.com
« Godzilla fires 'em up at Fenway | Page One | Tax Day Horror-Scope »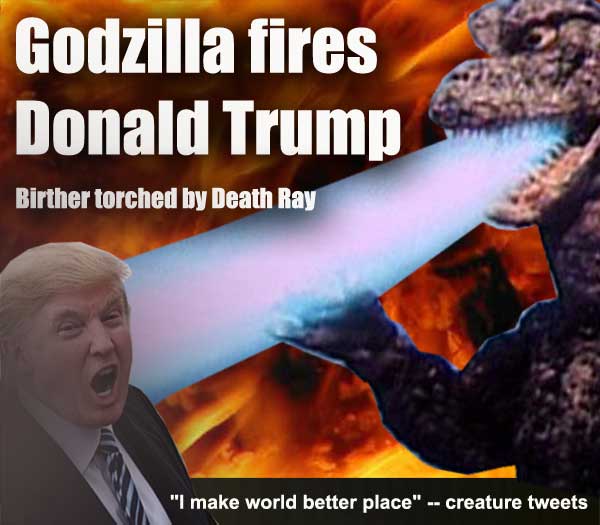 If there is one thing Godzilla cannot abide, it's a bombastic self-serving birther bad-mouthing the president of the United States of America. (BIG PICTURE)
On this issue, Godzilla agrees with Bill Cosby, who on the "Today" show called Trump "full of it" and observed "the only thing he's running is his mouth."
Here is some factual reporting on the hateful birther issue, along with a picture of President Obama's birth certificate.

ALSO:
Sarah Palin calls Obama 'soft' on Godzilla
Follow @GodzillaAlert on Twitter
Posted on April 11, 2011 12:33 AM | Permalink
---
Previous post: Godzilla fires 'em up at Fenway.
Next post: Tax Day Horror-Scope.