Global economy blues
Gazette exclusives
Drill Sergeant loses it
(YouTube sensation!)
Handy sites
About.com (Political Humor)
Alexa
Alternet
Bartcop
Borowitz Report
BuzzFlash
BuzzMachine
Fark
Dictionary.com
Glossy News
Google
Media Matters
New York Times
ThePoliticalCarnival
Romenesko/Poynter
Satire Awards
Word.com
« Newt announces presidential slither | Page One | Extreme Father's Day Makeover »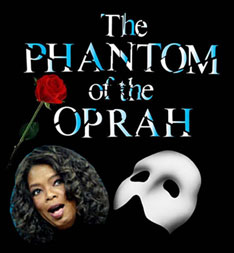 Oprah to star in 'Phantom of the Oprah'
Well, it's finally O-fficial!
Oprah has broadcast her final show, launched her OWN network and announced plans to star opposite George Clooney and Danny DeVito in "O, Sister Where Art Thou?"
What could possibly be next for the beloved Queen of the United States of Omerica?
The Humor Gazette has learned that Winfrey will stage a multibillion-dollar Broadway blockbuster titled "Phantom of the Oprah" -- an epic production featuring the music of Prince, Queen Latifah and Kings of Leon, and starring Rachael Ray as young Oprah, Dr. Phil as Rod Blagojevich and Tom Cruise as Spider-Man.
Posted on May 25, 2011 11:02 AM | Permalink
---
Previous post: Newt announces presidential slither.
Next post: Extreme Father's Day Makeover.