Page One | Jacko wacko for Hoffa »
Ono! ... Yoko to blame for McCartney split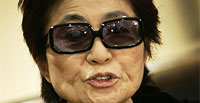 By John Breneman

Yoko Ono, widow of John Lennon and perhaps the world's most reviled scapegoat, is responsible for the breakup of Paul McCartney's marriage to Heather Mills, the Humor Gazette has learned.

Sources say Mills "really dug" McCartney, but eventually fell under the spell of Ono's shrill and relentless portrayal of Paul as a creative midget next to the God-like genius of John. Musical analysts say Ono's new single "(I Ain't Sayin' She a) Peg-Legged Gold Digger" -- a three-minute shriek accompanied by a chorus of baby harp seals in various stages of distress -- could be a subtle dig at Mrs. McCartney.

The latest polls reveal that Ono is also receiving a hefty share of the blame for the trouble in Iraq, the immigration problem and rising gas prices. The growing anti-Ono ire is good news for the Bush administration, which announced it has evidence linking the notorious band-wrecker to the attacks of Sept. 11, 2001.

Ono's approval is nearing its all-time low of 3 percent in when the Beatles broke up in 1970, thanks to her. She recently provoked ire in the Muslim world by saying she is "bigger than Allah."

The eccentric widow could not be reached for comment because she is channeling all her karmic energy into her latest project -- a one-woman plastic Ono neo-coed naked Zen minimalist Haiku mosh pit.
Related story:
Pitt split: world mourns Brad-Jen apocalypse -- Jan. 12, 2005
Posted on May 19, 2006 9:13 AM | Permalink
---
Next post: Jacko wacko for Hoffa.