« Al-Qaeda snatches Paris Hilton | Page One | July 4th, 1776 »
Dodds takes detour on road to D.C
By John Breneman
Skeptical of congressional candidate Gary Dodds' claim that he may have swerved to avoid a deer when he bumped into a guardrail on the Spaulding Turnpike then vanished for 26 hours, police are pursuing a new lead involving a possible second deer, perched on a nearby grassy knoll.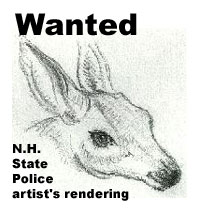 Dodds reportedly described the deer as 6 feet tall, 350 pounds, clad in a handsome brown pelt with a white patch on its throat and "dark, shifty eyes" -- possibly wearing a ski mask.
A wildlife expert said if Dodds had encountered a deer with his vehicle on the night of April 5, 2006, the animal would have been scared shitless. Yet the local CSI team found nothing when it dusted for scat.
However, they did discover pungent evidence suggesting the recent presence a large weasel. Unconfirmed reports suggest a magical unicorn also may have been involved.
Police have obtained a search warrant for Dodds' clothes to help figure out if he's been sending them on a wild deer chase with his amnesia-riddled tale of whacking his head and wandering the woods and rivers of Dover.
Shortly after the incident, Dodds seemed unsure about whether his 1997 Lincoln Continental had burst into flames (it had not) and whether or not he had been kidnapped by a previously unknown tribe of Granite State forest gnomes.

The befuddled Washington wannabe quickly demonstrated one of his key qualifications for Congress, blaming his woes on the media and accusing the local press of a "politically motivated witch hunt."

Sources say Dodds plans to lay low for a while, maybe cruise the Lincoln down to Rhode Island to get some campaign advice from fellow crazy-drivin' Democrat Patrick Kennedy.
Public opinion is split, with a new fake poll showing that 42% of the voters believe Dodds was probably just practicing lying in case he somehow won his bizarre bid to represent some extremely puzzled constituents in the U.S. Congress.

Posted on June 26, 2006 11:19 AM | Permalink
---
Previous post: Al-Qaeda snatches Paris Hilton.
Next post: July 4th, 1776.