« Fake obit: Zarqawi | Page One | Dodds' D.C. detour »
Al-Qaeda snatches Paris Hilton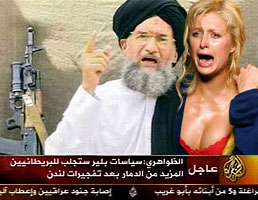 By John Breneman
Al-Qaeda terror crackpot Ayman al-Zawahiri has avenged the death of his pal Abu Musab al-Zarqawi by kidnapping American hotel heiress Paris Hilton.
Zawahiri appeared on videotape clutching a distraught, scantily clad Hilton, who was forced to read a statement renouncing "immoral reality TV" and calling American popular culture "ignorant, soulless and depraved. Like me."
U.S. intelligence confirmed that the abductee seen on the videotape -- and on a raunchy $19.95 companion bootleg -- is the flashy, trashy dumbass professional celebutramp.
Hilton also delivered her signature line -- "That's hot" -- as the terrorist held a glowing orange branding iron close to her cheek.
Hilton was snatched from a penthouse suite at the Baghdad Hilton where she was shooting a sex tape with the Greek National Guard. This according to a source close to the Mexican laborer who cleans up after one of her miniature Chihuahuas.

Nicole Richie could not be reached for comment.
Related story:
Al Qaeda's #2 man is cowardly piece of dung -- Aug. 5, 2005

Posted on June 12, 2006 8:31 AM | Permalink
---
Previous post: Fake obit: Zarqawi.
Next post: Dodds' D.C. detour.