« Satan fails to destroy Earth | Page One | Al-Qaeda snatches Paris Hilton »
Fake obit: Abu Musab al-Zarqawi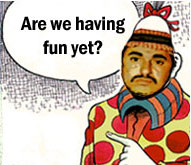 By John Breneman
Abu Musab al-Zarqawi, high-ranking al-Qaeda hatemonger, died unexpectedly today when his "safehouse" was smashed to Hell by bombs.
He was 39.
Zarqawi was identified by fingerprints, facial recognition and the "Martyrs Do it in the Afterlife" tattoo on his left bicep.
U.S. forces described Zarqawi's death as a victory in the war on terror, but an al-Qaeda spokesman called it a victory in the war FOR terror, saying 500 new Uncle Sam haters just signed up for suicide bomber boot camp.
There are conflicting reports on whether Zarqawi is currently burning in the underworld or gangbanging 72 virgins in the promised land. Also killed in the U.S. offensive, Zarqawi's #2 man, his #3, 4, 5 and 6 men, his longtime manicurist and his beloved Jack Russell terrier, Mr. Boom-Boom.
Born in Jordan, Zarqawi is remembered as a prodigy at the elite terror academy, Jihad Prep. Recalled one former instructor, "By the time Abu reached sixth grade he was already hating America at a ninth-grade level."
A past president of the Fraternal Order of Spineless Terrorists Local 666, Zarqawi rose to prominence as host of the popular Iraqi game show "Who Wants to Be a Martyr?"
A devout Muslim, Zarqawi reportedly spent two hours a day in prayer and another hour and a half playing Sudoku. In his spare time he enjoyed doing needlepoint, watching "Three Stooges" reruns and slaughtering innocent women and children.
Known for his uncanny resemblance to the American comic strip character Zippy the Pinhead, he also enjoyed pranking people with his prosthetic leg and grooving to the music of Barry Manilow.
His hobbies included firing automatic weapons on grainy, homemade videotapes and creating savory new recipes for human flesh. He was the co-author of the Baghdad Times bestseller "Killing Americans For Fun and Profit."
Friends say he will be remembered as a hero and a role model for young terror whackjobs. "He never let respect for human life stand in the way of his murderous ideology," said Ayman al "Fred" Zawahiri, a possible successor. "And he never met a non-Muslim he didn't hate."
His loss will be felt throughout the Islamist terror community and the Internet is crackling with "chatter" about who will take Zarqawi's place at third base on the al-Qaeda company softball team.
Zarqawi teamed up with Osama bin Laden in 1999 after the two met at a terror jamboree in Afghanistan, but sources say Zarqawi had a falling out with his former mentor and once told Al Jazeera that, ever since 9/11, bin Laden "thinks he's Allah that."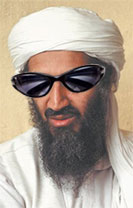 Services will be held tomorrow at Fatwa Brothers Funeral Home. In lieu of flowers and dates, donations may be made in Zarqawi's name to the American Armageddon Fund or the Inhumane Society.
Related stories:
Zarqawi the Pinhead cartoon causes carnage -- Feb. 8, 2006
Al-Zarqawi's approval rating falls -- Nov. 25, 2005
Osama Bin Laden's list of travel demands -- March 24, 2006
Bin Laden's driver linked to Miss Daisy -- March 30, 2006
Posted on June 9, 2006 8:00 AM | Permalink
---
Previous post: Satan fails to destroy Earth.
Next post: Al-Qaeda snatches Paris Hilton.