« Iran denies nuke-u-lar dreams | Page One | Fake obit: Zarqawi »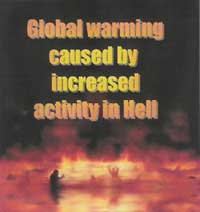 By John Breneman
Humanity and its allies claimed a major victory in the War on Satan on Tuesday, surviving a heightened risk of tsunamis, earthquakes, terrorism, bird flu, locusts and the raging hellfires of the apocalypse.
The Department of Homeland Security has dropped the Armageddon Risk Level from orange to yellow. The FBI would neither confirm nor deny that it is investigating scattered antichrist sightings throughout the Bible Belt.
Predictions that the advent of June 6, 2006 (aka 666) would bring about the end of the world proved false. However, leading underworld experts warn this is no guarantee that the devil will not wipe us all off the face of the planet tomorrow. Or the next day. Or the Fourth of Freakin' July.
Tuesday's triumph of good over evil was cause for celebration -- and mankind marked the occasion by burning vast quantities of petroleum, warming the globe with war and industrial waste.
The beast could not be reached for comment.
Related storIes:
Global warming caused by increased activity in Hell
Nostradamus issues terror warning -- Aug. 2, 2004
Posted on June 6, 2006 11:32 PM | Permalink
---
Previous post: Iran denies nuke-u-lar dreams.
Next post: Fake obit: Zarqawi.