Global economy blues
Gazette exclusives
Drill Sergeant loses it
(YouTube sensation!)
Handy sites
About.com (Political Humor)
Alexa
Alternet
Bartcop
Borowitz Report
BuzzFlash
BuzzMachine
Fark
Dictionary.com
Glossy News
Google
Media Matters
New York Times
ThePoliticalCarnival
Romenesko/Poynter
Satire Awards
Word.com
« July 4th, 1776 | Page One | N.Korea flunks missile test »
Crack found in foam of shuttle fuel tank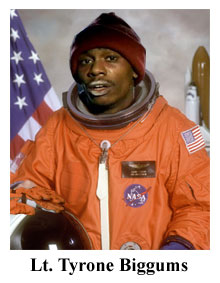 By John Breneman
The above headline from the New York Times Web site on Monday raises troubling questions about America's space program.
Most pressing: How did a crack dealer get close enough to the shuttle to hide a stash of rock cocaine in Discovery's foam-insulated fuel tank?
NASA engineers are now analyzing whether the mission should be scrubbed so they can check the O-rings for angel dust.
A source close to the shuttle's janitor said one of the astronauts was planning to conduct unauthorized experiments on the effects of crack cocaine in a weightless environment.
Police reportedly have questioned Lt. Tyrone Biggums, whose NASA bio identifies his hero as legendary Apollo 11 stoner Edwin "Buzz" Aldrin.
Related story:
Shuttle repair costs 'out of this world' -- Aug. 3, 2005
Posted on July 4, 2006 10:56 AM | Permalink
---
Previous post: July 4th, 1776.
Next post: N.Korea flunks missile test.