« Bad news for the noodle | Page One | Popeye stricken by tainted spinach »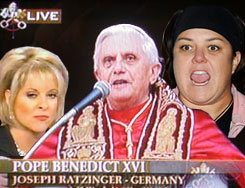 Pope apologizes to Rosie O'Donnell for slamming Islam
By John Breneman
Pope Benedict XVI today asked forgiveness from Rosie O'Donnell for badmouthing Islamo-fascism.
Under the gun for saying it is "evil" to spread religious beliefs "by the sword," and controversial stuff like "violence is incompatible with the nature of God and the nature of the soul," the pope apologized to the Muslim world in general and O'Donnell in particular.

"I'm sorry if my reference to some 14th century Byzantine emperor offended Muslims or any of Rosie O'Donnell's fans in the radical, extremist, lesbian Islamo-Hollywood community," he said in an exclusive interview with Regis Philbin.

O'Donnell, meanwhile, is taking heat for saying "radical Christianity is just as threatening as radical Islam in a country like America." Inflammatory words. So it was vitally important that the daytime talk show blabbermouth be burned in effigy by the nighttime blabberpundits on cable, while enraged Muslims torched pope posters in Pakistan.
In other cable-news news: Forensic analysts are conducting tests to determine if chunks of shredded human flesh found in the razor-sharp teeth of self-appointed CNN legal attack dog Nancy Grace is that of a young Florida woman took her own life after being interrogated by Grace about her missing son.
The incident sparked fresh debate over whether the Geneva Conventions should apply to Grace's program or ratings-motivated media grillings in general. Grace is also under fire for allegedly waterboarding a sexy blonde teacher who banged one of her students.
Related stories:
Help Wanted: Pope -- April 18, 2005

Rev. Jesse Jackson mulls pope bid -- April 11, 2005

Schiavo autopsy reveals media in persistent vegetative state -- June 17, 2005

Posted on September 18, 2006 2:09 PM | Permalink
---
Previous post: Bad news for the noodle.
Next post: Popeye stricken by tainted spinach.