« America to Decider: You stink, pal | Page One | Curious George goes to Vietnam »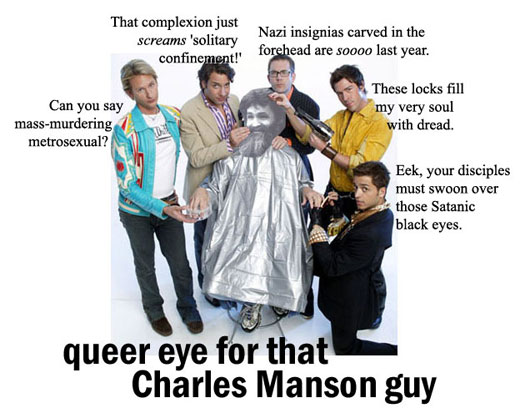 ---
VH-1 shooting Charles Manson reality show
By John Breneman
Negotiations for a new Charles Manson reality show on VH-1 have broken down over the notorious serial killer's demand that each episode end with the ritualistic slaying of two baby gerbils and a music industry executive.
Footage has already been shot for several episodes of the program -- tentatively titled "Charlie Knows Best," "Manson Family Values" or "Death to the Television Whore-Bastards."
In one, a heavily shackled Manson visits an old-folks home and delights skeptical seniors by teaching a workshop on how to carve Nazi insignias into their foreheads.
In another, furious when guards at California's Corcoran State Prison strip a tattered Farrah Fawcett poster from his 6-by-8-foot "crib," Manson sets fire to his mattress, poops on the floor and spits into the camera 142 times.
Manson spews contempt for his rivals in one chilling segment, fashioning a crude jailhouse shiv from a Mountain Dew can while threatening to eat the intestinal "sweet bread" of Hulk Hogan, Danny Bonaduce and Flavor Flav.
VH-1 insiders also are touting a special cameo in which Lynette "Squeaky" Fromme is caught trying to assassinate President Bush, ex-Beach Boy Brian Wilson and Oprah.
A source close to the guy who cleans the maggots out of Manson's beard claims the celebrity psychopath delighted producers with his catchy signature slogan: "The streets will run red with the Robitussin cough syrup of the non-believers!"
Posted on November 13, 2006 10:30 AM | Permalink
---
Previous post: America to Decider: You stink, pal.
Next post: Curious George goes to Vietnam.