Global economy blues
Gazette exclusives
Drill Sergeant loses it
(YouTube sensation!)
Handy sites
About.com (Political Humor)
Alexa
Alternet
Bartcop
Borowitz Report
BuzzFlash
BuzzMachine
Fark
Dictionary.com
Glossy News
Google
Media Matters
New York Times
ThePoliticalCarnival
Romenesko/Poynter
Satire Awards
Word.com
« Bush docs secure 'Brown Zone' | Page One | Dog Fighting League probed »
No place like Homer
Massachusetts scribe Mike Scully
tells of work on 'Simpsons Movie'
By John Breneman
What's a mild-mannered jokester from Springfield doing in a place like . . . Springfield?

Living the dream, you might say. And in Mike Scully's dream, all the people are bright yellow. They screw up every week, but their dysfunctional family is true blue. And now they're headed for the silver screen.

Anticipating the Friday release of "The Simpsons Movie," Scully -- a producer and writer on the series and blockbuster film -- took a few moments to discuss his improbable journey from West Springfield, Mass., to the animated Springfield (location: undisclosed) inhabited by Homer, Bart and the rest of the metropolis' four-fingered citizenry.

Scully is a 50-year-old family man whose adopted clan debuted as a strange cartoon in 1987 and evolved into an American cultural phenomenon (in 1999, Time magazine named "The Simpsons" the 20th century's best TV show).

But growing up in West Springfield, Scully said, "I had hoped to be a musician or a hockey player." The music thing didn't work out. But hey, sitting on a couch going over a script with Mick Jagger ain't a bad consolation prize.

"I definitely wanted to break into comedy," said Scully, but "I really had no reason to believe I could succeed at this." Nevertheless, he packed his bags for the proverbial trip to L.A., knowing he could always "go back to Springfield and get a job as a janitor or a driving instructor," the last two positions he held before moving to California.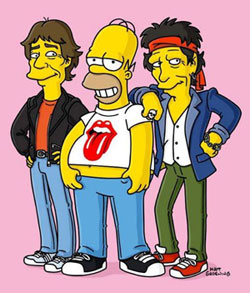 Humor writer helped
Stones paint it yellow
Longtime "Simpsons" writer and producer Mike Scully says he'll never forget "the days Mick Jagger and Keith Richard came in." The Stones rolled in to voice a 2002 episode ("How I Spent My Strummer Vacation," written by Scully), in which the family takes Homer to a rock 'n' roll fantasy camp.

"Mick's manager came in and said 'Mick would like to see you in the green room.' He patted the couch for me to sit down next to him. He had the script in his hand. ... We went through the script page by page," said Scully. "On the outside, I was trying to project the image of a television professional, but on the inside I was screaming like a 12-year-old girl: 'Oh my God, it's Mick Jagger!'"

Also among the countless musical acts who have "appeared" on "The Simpsons," Michael Jackson, Britney Spears, Kid Rock, Willie Nelson, Elton John, 50 Cent, Aerosmith, The Who and U2.

Scully got his start penning punch lines for Ukrainian yukster Yakov Smirnoff and honed his craft at comedy amateur nights ("stand-up comedy with the emphasis on amateur"), which he now describes as "a crash course on how to write jokes."

The aspiring humorist bought some old TV scripts ("Taxi" among them) to teach himself the half-hour comedy format and began "bouncing around Hollywood working on some of the lousiest sitcoms in history."

His break came when then-executive producer David Mirkin read some sample scripts and hired him to work on "The Simpsons," long known for hiring Harvard talent. "I started as a writer on the show in 1993," said Scully, who attended Holyoke Community College for one day.

In retrospect, he said, "I think if I had actually succeeded at college and gotten a degree in accounting or something, I might have given up too quickly on writing. Having no marketable job skills was a tremendous incentive to keep trying to succeed as a writer."

Scully considers himself "incredibly lucky" to have hooked up with "The Simpsons," now the longest-running sitcom in American history (surpassing "The Adventures of Ozzie and Harriet").

The show has won 23 Emmy Awards and a Peabody. Time named Bart Simpson one of the 20th century's 100 most influential "people" and Homer's signature catchphrase -- "D'oh!" -- is now listed in the Oxford English Dictionary.
As for the movie, Scully said it was fun doing "certain scenes that would have a visual scope and scale that just wasn't possible on the series."

Eighteen years in the making, "The Simpsons Movie" is receiving intense promotion. Homer appeared at the baseball All-Star Game and on "The Tonight Show." Select 7-Elevens were converted into Kwik-E-Marts. Burger King is on board, sponsoring simpsonizeme.com (upload a photo to see a Simpsonized version of yourself or a friend). And the nation's leading Springfields squared off in a contest to host the premiere (Vermont won despite a Bay State Springfield pitch featuring an appeal by Sen. Ted Kennedy, the inspiration for Springfield Mayor "Diamond Joe" Quimby).

"Simpsons" creator Matt Groening appeared on "The Daily Show With Jon Stewart" on Wednesday and shared this nugget about the creative process, "Homer falls in love with a pig and the rest just wrote itself."

Scully says he's had to remain pretty tight-lipped about the plot, even though one of his gags involving Bart and some full-frontal cartoon nudity has appeared on one of the trailers.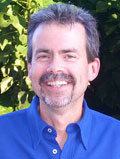 "My own family didn't even know what the script was," he said.

Scully's wife, Julie Thacker, is also a comedy writer; together they co-created "The Pitts" for Fox and "Complete Savages" for ABC. They have five daughters ages 17-24. His brother, Brian Scully, is a writer on "Family Guy."

One secret to "The Simpsons' " success is itsemphasis on family and community values.

At the beginning of each episode, the Simpson family gathers (to put it mildly) at the couch, in effect inviting all of us to join them in front of the TV. Their hometown of Springfield, said Scully, "is supposed to represent Anytown, USA."

So for Scully, "It's a huge kick when somebody tells me it's one of the few things the family does together as a family is watch 'The Simpsons.' "

A "Simpsons" musical CD ("Testify") is set to drop in September, timed to coincide with the start of season 19. Having now surpassed 400 episodes, Scully said of the show, "I think it has become an institution in this country."

The Oscar buzz hasn't started yet but "I know the expectations are really high and we certainly hope we don't disappoint anybody," said Scully, joking that he's been on a "one-man mission to lower expectations."

So what happens? Scully's not saying, but (spoiler alert) "I can tell you that Homer does something stupid."
John Breneman is an editor and writer at the Boston Herald.
The above story appeared in the Herald on July 22, 2007.

Posted on July 26, 2007 8:28 AM | Permalink
---
Previous post: Bush docs secure 'Brown Zone'.
Next post: Dog Fighting League probed.