« Edwards flip-flops on infidelity issue | Page One | Olympic humor video »
China takes gold in Olympic propaganda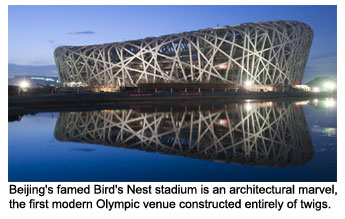 By John Breneman
Why shanghai a 7-year-old Olympic hopeful's chance to sing in Beijing? For Chinese officials, yanking the real crooner for a lip-synching cutie -- like filling the sky with made-for-TV fireworks -- was all about hosting the best Summer Games ever, by any means necessary.
"What's the big deal, silly vanilli?" asked Tony Chin, a dashing ex-karaoke champion identified as the "organizer" of the 2008 Summer Games. Chin was standing in for the actual Olympic organizer, whose imperfect teeth and oversized facial pores disqualify him from playing a more public role.
Asked about reports that the host country was combating lower-than-expected attendance by filling half-empty stadiums with legions of fake fans, Chin responded by saying, "The Olympics are just super."
The controversy has caused critics to wonder aloud if China's lip-synching mentality has crept into the competitive arena. ("Accepting the gold medal on behalf of the homely, goggle-eyed swimming champion is this far more aesthetically pleasing specimen of Chinese cultural and genetic superiority," joked one ZNBC commentator.)
The government's desire to stage manage every aspect the Olympics is also causing security concerns. This, according to disgruntled police officers who say they've been forced to pull desk duty while their glamorous and lucrative Olympic overtime shifts are covered by more attractive but less experienced trainees.
At least the thick smog that threatened to cast a toxic pall over Beijing has been brought under control, according to Bubbles Wang, the perky "minister of air pollution," lip-synching at a press conference for the wheezing, soot-covered actual minister of air pollution.
The Beijing air is also rife with rumors that the 2008 Olympic medals are not actually gold, silver and bronze, but a cheap alloy coated with lead paint.
Summing up the controversy, Tony Chin reiterated that the China that is hosting the 2008 Summer Olympics is not the scary, authoritarian, polluted-wracked, human rights-repressing China, but instead the fancy, shiny China that is only brought out to impress guests on special occasions.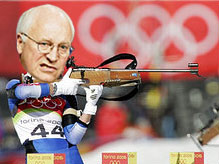 Related stories:
Cheney slays 4 in Winter Olympic biathlon incident
-- Feb. 24, 2006
Carrying a torch for Olympic innovation
-- July 4, 2004
FCC fines NBC for Olympic coverage
-- Aug. 19, 2004
Posted on August 21, 2008 9:55 AM | Permalink
---
Previous post: Edwards flip-flops on infidelity issue.
Next post: Olympic humor video.