Global economy blues
Gazette exclusives
Drill Sergeant loses it
(YouTube sensation!)
Handy sites
About.com (Political Humor)
Alexa
Alternet
Bartcop
Borowitz Report
BuzzFlash
BuzzMachine
Fark
Dictionary.com
Glossy News
Google
Media Matters
New York Times
ThePoliticalCarnival
Romenesko/Poynter
Satire Awards
Word.com
« Sarah Palin: How many igloos does she own? | Page One | Brangelina to accelerate adoption binge »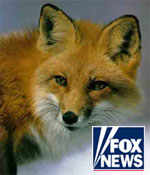 Sarah Palin goes donkey hunting at GOP convention
Two puppets -- Fox News Fox and GOP Elephant -- give you the scoop on how Sarah Palin once slaughtered a herd of caribou with just her bare hands and those razor-sharp, pearly-white teeth.
WATCH: Fox News puppet pundits
Posted on September 4, 2008 9:23 AM | Permalink
---
Previous post: Sarah Palin: How many igloos does she own?.
Next post: Brangelina to accelerate adoption binge.