Global economy blues
Gazette exclusives
Drill Sergeant loses it
(YouTube sensation!)
Handy sites
About.com (Political Humor)
Alexa
Alternet
Bartcop
Borowitz Report
BuzzFlash
BuzzMachine
Fark
Dictionary.com
Glossy News
Google
Media Matters
New York Times
ThePoliticalCarnival
Romenesko/Poynter
Satire Awards
Word.com
« Erection '08: Bob Dole running for president | Page One | Radio host to Obama: 'Go screw yourself' »
Swift potato: McCain linked
to Potato-Industrial Complex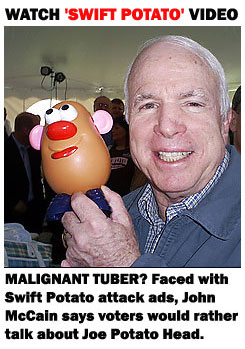 By John Breneman
New evidence has emerged linking Republican presidential nominee John McCain with Canadian-based McCain Foods, the world's leading producer of French fries.

A group calling itself McCain Lovers For Obama has released an anti-McCain attack ad charging that Sen. McCain is "in the pocket of Big Potato," having taken billions from "the Potato-Industrial Complex."
The ad features two iconic blue-collar voters, Joe Lunch-Bucket and Tommy Twelve-Pack, discussing their love for McCain while savoring a plate of McCain crinkle cut French fries.
The ad then blatantly attempts to "Swift Potato" Sen. McCain with unsubstantiated "Tater-Gate" allegations.
Related story:
McCain linked to error kingpin Abu Dubya

Posted on October 28, 2008 11:42 AM | Permalink
---
Previous post: Erection '08: Bob Dole running for president.
Next post: Radio host to Obama: 'Go screw yourself'.