Global economy blues
Gazette exclusives
Drill Sergeant loses it
(YouTube sensation!)
Handy sites
About.com (Political Humor)
Alexa
Alternet
Bartcop
Borowitz Report
BuzzFlash
BuzzMachine
Fark
Dictionary.com
Glossy News
Google
Media Matters
New York Times
ThePoliticalCarnival
Romenesko/Poynter
Satire Awards
Word.com
« McCain linked to error kingpin Abu Dubya | Page One | Swift potato: McCain linked to Potato-Industrial Complex »
Erection '08: Bob Dole running for president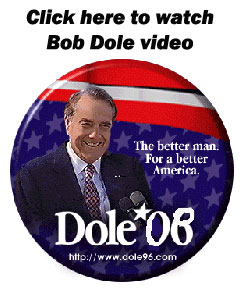 Saying America needs a spunky, virile leader to get its flaccid economy back on top, 1996 Republican presidential nominee Bob Dole announced today he is taking another crack at the White House.
"The economy's shootin' blanks," said Bob Dole. "America needs a stiff dose of Bob Dole."
Pledging to "stick it to the special interests," Dole said he is counting on support from "schwing voters" who may be suffering from "electoral dysfunction."
Watch Bob Dole lay out his platform for what he is calling "the biggest erection of our time."
Related story:
Doctors: Bush suffers from Iraq-tile dysfunction
Posted on October 20, 2008 12:32 PM | Permalink
---
Previous post: McCain linked to error kingpin Abu Dubya.
Next post: Swift potato: McCain linked to Potato-Industrial Complex.