« Humor Gazette Radio broadcasts worldwide | Page One | Sarah 'Barracuda' Palin's fishy resignation speech »
Jackson joins Peter Pantheon
of 'Off the Wall' entertainers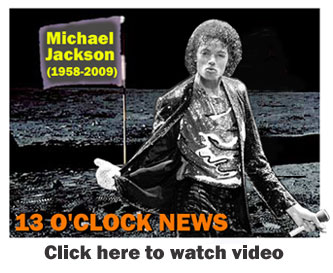 Good evening and welcome to Day 6 of our round-the-clock salute to legendary pop star Michael Jackson.
I'm Humor Gazette news anchorman Reid Page … and this is the 13 O'Clock News. (CLICK to see VIDEO)
Since his death on Thursday at age 50, the media's nonstop,
over-the-top King of Pop coverage has been absolutely sensational.
But critics claim it is overshadowing such vital news stories as the unrest in Iran, which has taken a violent turn as pro-Jackson demonstrators clash with repressive anti-Jacko extremists.
Certain tabloids have aired rank speculation about whether "Wacko Jacko OD'd on cracko," but we here at 13 O'Clock News have taken a more respectful tone in our coverage of the only American entertainer ever to walk on the moon.
Idolized around the globe -- he is revered as Michael Jacko-san in Japan and feared as El Jacko in parts of Venezuela -- few could argue that his legacy places him in the Peter Pantheon of beloved, yet deeply troubled artists.
And while we would be remiss not to acknowledge his unparalleled, self-provoked contributions to the world of tasteless humor, let the record show that Mr. Jackson -- honored at the White House in 1984 by President Ronald Reagan for his work with the Elephant Man -- is credited with pioneering breakthroughs in the fields of plastic surgery, baby dangling and zombie choreography.
His 1970 hit "ABC" is credited with teaching millions of young children to learn the first three letters of the alphabet.
The notoriously reclusive Mr. Jackson died just as he was set to launch a London comeback tour with 50 sold-out shows.
Details were scarce, but CNN -- in a live broadcast from its Neverland bureau -- reported that in addition to several numbers featuring giraffes and albino backup dancers, Mr. Jackson planned to take the stage with Jesse Jackson, former "Charlie's Angel" Kate Jackson and singer Jackson Browne in a Jackson-studded salute to Jacksonian democracy … with a portion of the proceeds benefiting the Shoeless Joe Jackson Foundation.
Mr. Jackson endured a difficult and traumatic perpetual childhood -- from vicious beatings at the hands of his father and years of ridicule from media "haters," to being set on fire by Pepsi in 1984.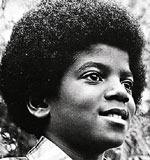 His valiant attempts to live a so-called normal life included marrying the daughter of Elvis Presley and palling around with chimpanzees, parasitic enablers and Liza Minelli.
He is survived by three children -- Gloved One Jr., Prince Albert-In-A-Can and Electric Blanket Jackson.
Creepy eccentricities aside, this singular pop singer-slash-icon will be remembered as a sensitive and compassionate being who donated millions to charity, and as an outspoken advocate for peace and racial harmony.
On a personal note: Ever since this reporter, as a child himself, saw a young Michael Jackson perform on TV, he has appreciated -- and felt first-hand -- this gifted, tragically flawed artist's electrifying ability to use music to touch the human soul.
With enduring respect for Michael Joseph Jackson, I'm 13 O'Clock News anchorman Reid Page.
Posted on June 30, 2009 10:29 AM | Permalink
---
Previous post: Humor Gazette Radio broadcasts worldwide.
Next post: Sarah 'Barracuda' Palin's fishy resignation speech.