« Michael Jackson humor/tribute video | Page One | Wacko sister: Jacko murdered !! »
Sarah 'Barracuda' Palin's fishy resignation speech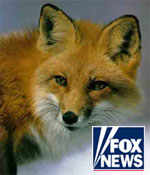 Good evening. I'm Fox News anchor-puppet Deuce Murdoch -- reporting live from Anchorage …
Tonight:
Why did Sarah Palin resign as governor?
I don't know -- but Alaska!!
What we do know is that Sarah Barracuda has gone maverick again -- stunning the political world by announcing her resignation Friday in a fishy, salmon swimming upstream-of-consciousness speech that ticked off the elite, liberal media by giving them no coherent comment on why she did it or what she'll do next.
America's favorite moose-cookin', Putin-huntin' hockey mom did say she was sick of being a political hockey puck.
And sources claim she's so steamed about scandal rumors involving her $1.2 million igloo that she plans to take a brief vacation shooting media jackals from an airplane.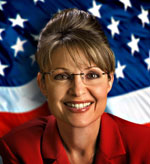 Then she may hit the paid-speaker circuit, where she can reel in big money with her inane ability to spout random strings of words that underscore her refreshing lack of knowledge and experience.
That would also help position her for 2012, when some say she'll be the GOP's best hope to stop that President Hussein Obama from palling around with socialists.
Supporters of a presidential bid point out that she's a staunch conservative who hates all the right things and is passionate about the God-given right of every fetus to own a gun.
Stay tuned to Facebook and Twitter to find out what's next for ex-Gov. Palin, whose family values stand to increase by millions -- with her book and TV opportunities, and her new line of Sassy Sarah bobble-head political action figures.
From Anchorage, I'm Fox News anchor-puppet Deuce Murdoch.
Posted on July 6, 2009 8:50 AM | Permalink
---
Previous post: Michael Jackson humor/tribute video.
Next post: Wacko sister: Jacko murdered !!.