Global economy blues
Gazette exclusives
Drill Sergeant loses it
(YouTube sensation!)
Handy sites
About.com (Political Humor)
Alexa
Alternet
Bartcop
Borowitz Report
BuzzFlash
BuzzMachine
Fark
Dictionary.com
Glossy News
Google
Media Matters
New York Times
ThePoliticalCarnival
Romenesko/Poynter
Satire Awards
Word.com
« Swine flu over the cuckoo's nest | Page One | Palin 'Going Vogue' in maverick memoir »
Miss Piggy spreads swine flu on 'Sesame Street'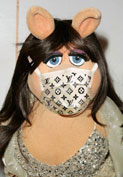 (Today's episode of Triple-Action News
brought to you by the letters H1N1)
Filming of a popular PBS children's program ground to a halt today, as dozens of cast members reportedly caught swine flu when longtime colleague Miss Piggy blew out the candles on a birthday cake marking the show's 40th anniversary.
The Sesame Street Journal is reporting that Miss Piggy -- the lovelorn, porcine prima donna -- is under quarantine as a carrier of the deadly H1N1 virus. Kermit the Frog is said to be praying his longtime friend doesn't "croak."
Meanwhile, U.S. Rep. Roosevelt Franklin has sponsored legislation mandating that the H1N1 vaccine be made more widely available to the muppet community. But he admitted that, for now, his swine flu initiative is "just a bill, sitting here on Capitol Hill."
The Sesame Street Journal is also reporting that PBS superstar Big Bird has been identified as a possible carrier of the deadly and horrifying avian flu.
In a related story: Triple-Action News anchorman Reid Page needles the media's coverage of the swine flu "oink-idemic," with expert insight from porcine pundit Dr. Napoleon Hamm.
Posted on November 12, 2009 10:00 AM | Permalink
---
Previous post: Swine flu over the cuckoo's nest.
Next post: Palin 'Going Vogue' in maverick memoir.