Global economy blues
Gazette exclusives
Drill Sergeant loses it
(YouTube sensation!)
Handy sites
About.com (Political Humor)
Alexa
Alternet
Bartcop
Borowitz Report
BuzzFlash
BuzzMachine
Fark
Dictionary.com
Glossy News
Google
Media Matters
New York Times
ThePoliticalCarnival
Romenesko/Poynter
Satire Awards
Word.com
« Palin taps Joe the Plumber to plug WikiLeaks | Page One | The Devil wears Pravda »
Sarah Palin's Ultra-Thin Skin Cream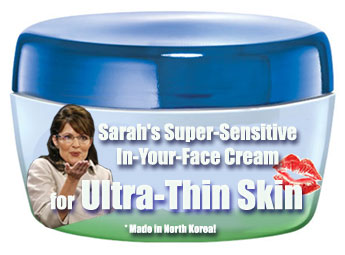 Notoriously thin-skinned Sarah Palin is out with a lucrative new In-Your-Face cosmetics line -- made with the exotic oils of freshly clubbed baby seals.
Palin blistered Barbara Bush as a "blue blood" in a recent revenge rant and voices near-daily grievances with the "corrupt bastards" in the "lamestream media."
Her special Thanksgiving message on Facebook wasn't a no-brainer like blessing the troops. Instead she torpedoed the media for mocking her "North Korean allies" gaffe and then listed off some Bushisms by Barack "57 states" Obama.
Palin's special In-Your-Face serum, made in West Korea by pregnant unwed teenagers, has 50% more acerbic ascorbic acid than other leading brands.
She dissed rivals Estee Lauder and Elizabeth Arden as too "politically correct" and said her products are specially formulated to let the inner nastiness ooze from every pore!

Posted on December 1, 2010 1:04 AM | Permalink
---
Previous post: Palin taps Joe the Plumber to plug WikiLeaks.
Next post: The Devil wears Pravda.