Global economy blues
Gazette exclusives
Drill Sergeant loses it
(YouTube sensation!)
Handy sites
About.com (Political Humor)
Alexa
Alternet
Bartcop
Borowitz Report
BuzzFlash
BuzzMachine
Fark
Dictionary.com
Glossy News
Google
Media Matters
New York Times
ThePoliticalCarnival
Romenesko/Poynter
Satire Awards
Word.com
« Holiday health alert: Stay away from myrrh | Page One | Harshmallow fluff: Sarah slams Michelle »
Study shows Fox News causes cerebral hemorrhoids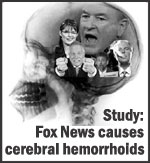 Regular exposure to Fox News may cause intellectual anemia, brain damage and even cerebral hemorrhoids, according to a new study by University of Maryland.

The study confirmed what many have long suspected, that Fox News rots your brain with agenda-driven propaganda and ultimately leads to a cruel form of dementia called Rupert Murdoch Syndrome. A spokesman responded that Fox News' logo is "fair and balanced."
Some are now calling for a warning label in the lower left corner of particularly misleading Fox News broadcasts. Possible sample text: "The Surgeon General has determined that Glenn Beck's program contains harmful, toxic levels of misinformation, propaganda, arsenic, rat feces and tar."
Other side effects of prolonged exposure to Fox News may include degenerative ideological sclerosis, electile dysfunction and restless middle-finger syndrome.
| | |
| --- | --- |
| | Alleged Fox News victim Billy Buck Teefus, American redneck savant |
* * *

Posted on December 19, 2010 11:42 PM | Permalink
---
Previous post: Holiday health alert: Stay away from myrrh.
Next post: Harshmallow fluff: Sarah slams Michelle.