Global economy blues
Gazette exclusives
Drill Sergeant loses it
(YouTube sensation!)
Handy sites
About.com (Political Humor)
Alexa
Alternet
Bartcop
Borowitz Report
BuzzFlash
BuzzMachine
Fark
Dictionary.com
Glossy News
Google
Media Matters
New York Times
ThePoliticalCarnival
Romenesko/Poynter
Satire Awards
Word.com
« Palin's birthday: Make a wish! | Page One | Sheen Magazine shocker !! »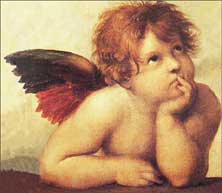 The trouble with Valentine's Day


Sometimes, Jay mused to himself as he scanned the sports page on a blustery mid-February morning, life just isn't fair.
Here it was Valentine's Day, and he was feeling more than a bit lonely and depressed that all his relationships had failed, even the ones he'd truly hoped would last. (READ MORE)
Posted on February 14, 2011 8:17 AM | Permalink
---
Previous post: Palin's birthday: Make a wish!.
Next post: Sheen Magazine shocker !!.